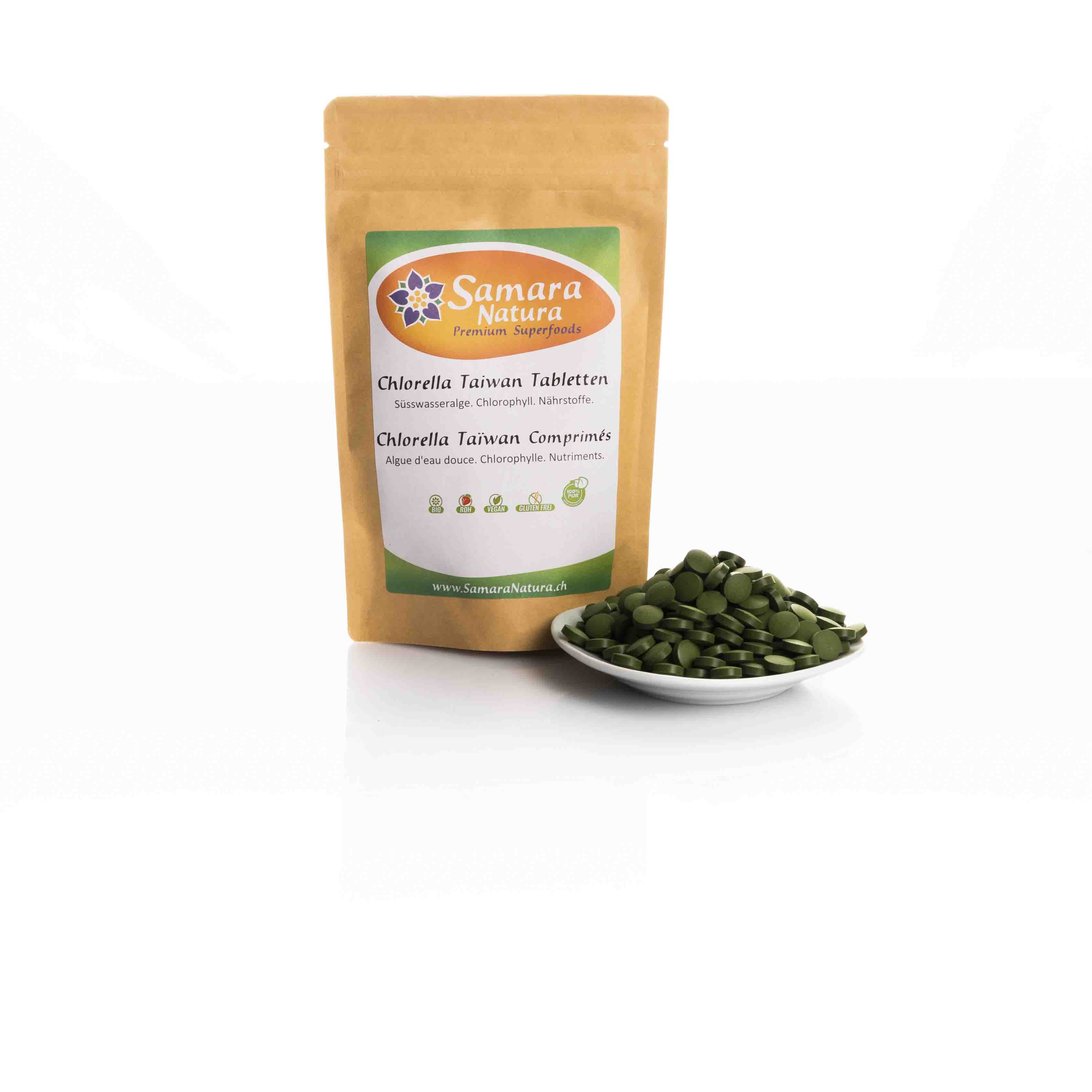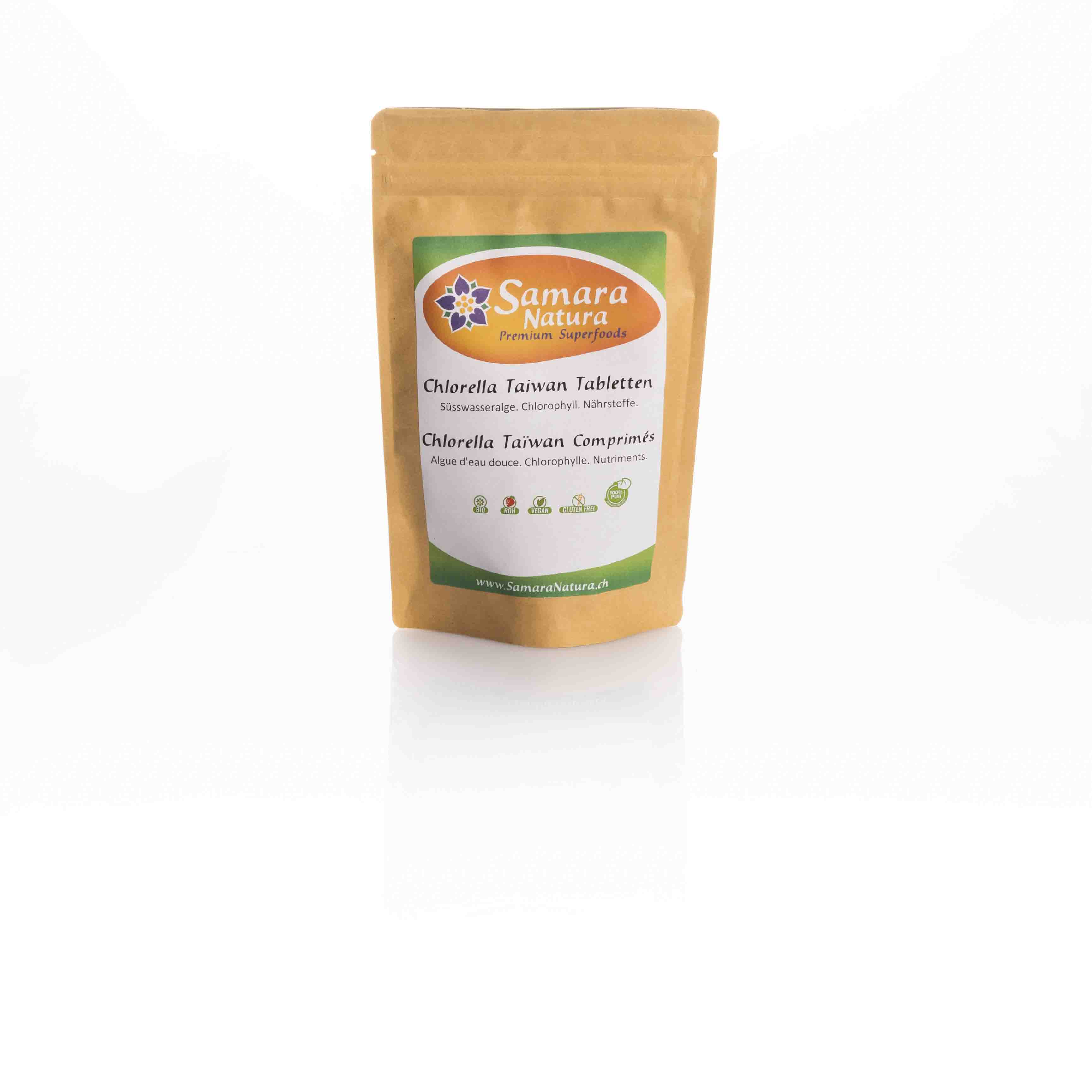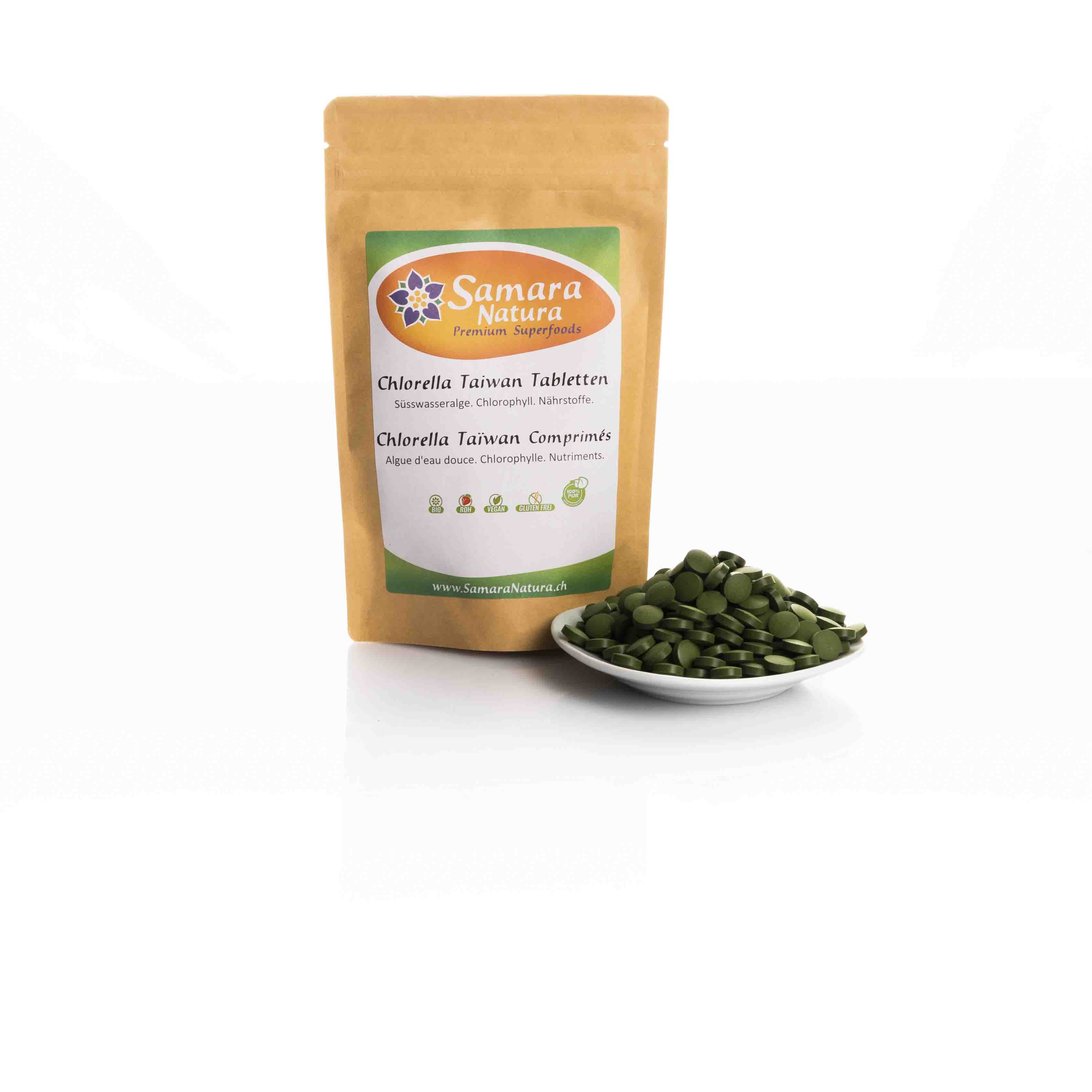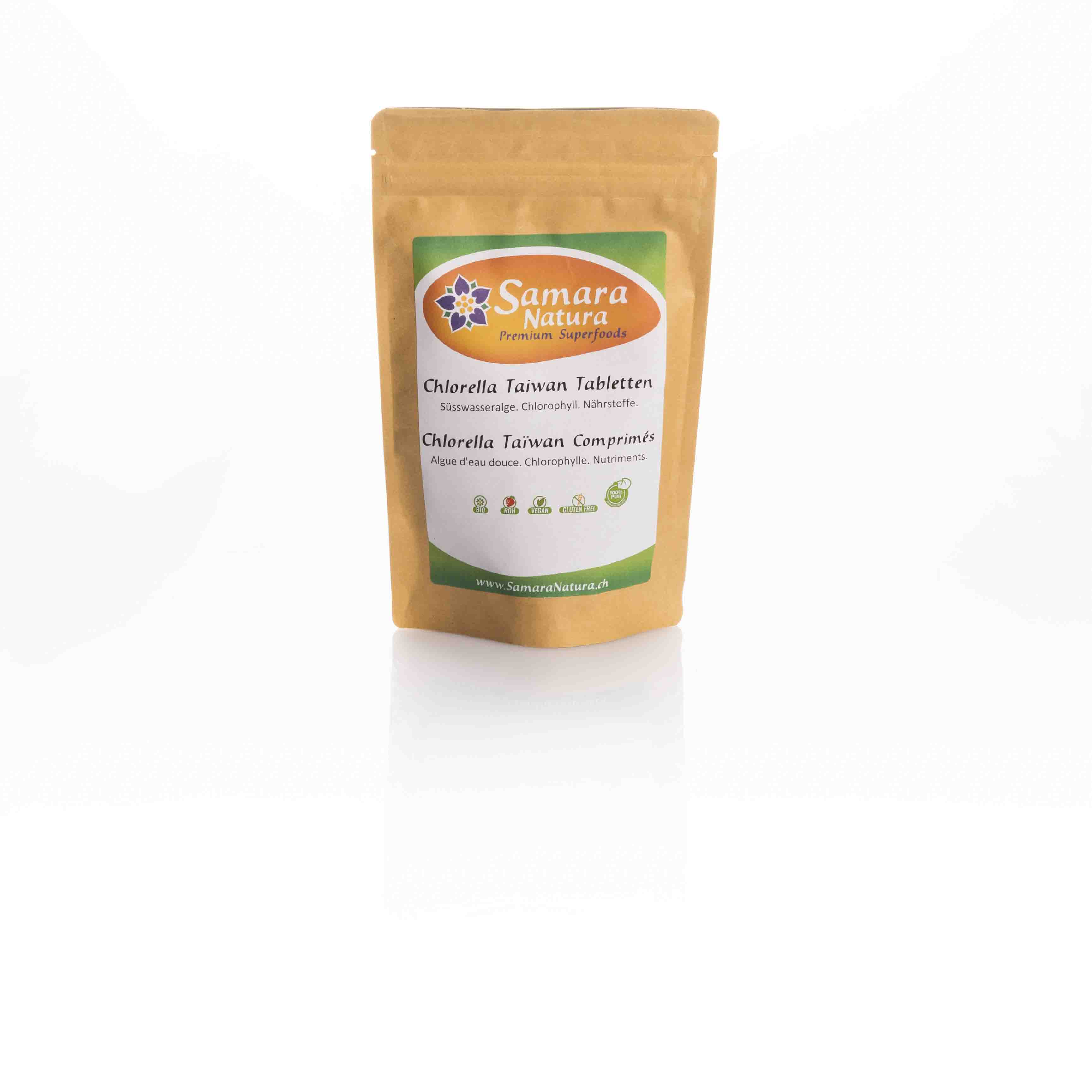 Quantity
Unit price
Base price
To

2

CHF 28.80*

CHF 23.04* / 100 Gramm
From

3

CHF 27.36*

CHF 21.89* / 100 Gramm
Available, delivery time: 1-4 days
Chlorella Vulgaris Tablets - The Green Wonder
Chlorella is a microscopic unicellular algae that occurs naturally in fresh water. It is the oldest form of plant life known to us that has a real cell nucleus. Chlorella has been used and revered as a powerful food in many traditional cultures.
Why consume Chlorella?
Chlorella provides a veritable flood of nutrients for the body. Minerals, rare trace elements, vitamins (including vitamin D) and a wide range of enzymes (including pepsin). Chlorella consists of 60% complete and easily digestible proteins. Also included are essential fatty acids, nucleic acids (DNA, RNA) important for cell regeneration and phytochemicals such as carotenoids, lutein, astaxanthin and others.
Chlorella has the highest chlorophyll content of any known plant, four times that of normal plants! Chlorophyll is also referred to as "green plant blood" because its molecular composition hardly differs from human hemoglobin.
What makes our Chlorella tablets special?
Our chlorella tablets consist of 100% natural organic chlorella microalgae powder. The tablets are pressed on site from fresh powder and this without any pressing aids or additives.
To ensure the high quality requirements, each batch of organic chlorella tablets in Germany is checked for toxins, heavy metals and other contamination by an independent laboratory.
Where does our chlorella come from and how is it processed?
Our chlorella comes from an algae farm in southern Taiwan, which was the first to be recognized by the German organic farming association Naturland. Laboratory tests have shown that this chlorella is among the cleanest strains of chlorella in the world (along with just one other)!
The algae grow outdoors under intense sunlight in pure fresh water of drinking water quality. The cultivation of only strong, healthy microalgae strains guarantees first-class quality.
At the time of the highest nutrient density, the microalgae are gently harvested, then pre-centrifuged and spray-dried within 3 seconds in a special process. The hard cell wall of chlorella is gently broken open by a vacuum process to make it easier to digest. During this process, the temperature of the mass does not rise above 40°C -> raw food quality.
What Makes Chlorella Unique?
Chlorella can quadruple in quantity every 20 hours and no other plant on earth can do that! This is related to something called Chlorella Growth Factor (CGF), a complex of many substances in very small amounts, including RNA, DNA, amino acids, vitamins and minerals, the exact properties of which have not yet been identified. However, laboratory tests showed that the addition of CGF stimulates growth processes by increasing the growth of beneficial bacteria such as Lactobacillus by up to 400%.
Because of its nutritional richness, chlorella is one of nature's ideal foods. When you use chlorella along with spirulina, you have near-perfect ratios of all the essential nutrients your body needs.
Chlorella has been and still is the subject of intense research.
Usage: Chlorella tablets
Chlorella can be taken in tablet form or as a powder. The tablets are easier to take, but their quality can be affected by the possible use of binders and heating during manufacture (not applicable to our tablets).
Powdered chlorella can be mixed into vegetable and fruit juices or smoothies. It adds a rich, thick texture to any liquid. Chlorella can also be added to foods like cream cheese, mayonnaise, ice cream, pasta, and rice.
Recommended amounts of Chlorella tablets:
Start with 400 mg (1 tablet) per day and slowly increase as your body adjusts to chlorella.
Children and beginners: 1 - 8 tablets per day
Adults: 12 - 15 tablets per day
Composition Chlorella tablets
100% chlorella, no tableting aids. Tablets of 400 mg chlorella 
Contents of pack of Chlorella tablets
The 125g pack contains approx. 313 tablets of 400mg each.
The 250g pack contains approx. 625 tablets of 400mg each.
Nutritional values per daily serving (4.8g / 12 tablets)
energy value 76kJ / 18kcal,
fat 0.4g,
of which saturated fatty acids 0.2g
carbohydrates 0.5g,
dietary fiber 0.4g,
protein 3g,
Vitamin A (β-carotene) 491µg (61%*),
Folic acid (vitamin B9) 108 µg (54%*),
Iron 9.5 mg (68%*),
Chlorophyll 102 mg.
*the recommended daily dose
All information is subject to the usual fluctuations in natural products. The product is not intended as a substitute for a balanced and varied diet and a healthy lifestyle. Keep out of the reach of children. The recommended daily dose should not be exceeded.
Vitamin A and iron contribute to the normal functioning of the immune system and normal cell division.
---
Gute Unterstützung beim Fasten
Das Chlorella unterstützt vor allem beim Entgiften und Entschlacken - grade wenn bald wieder der Frühling kommt und es beim Fasten unterstützend wirkt.