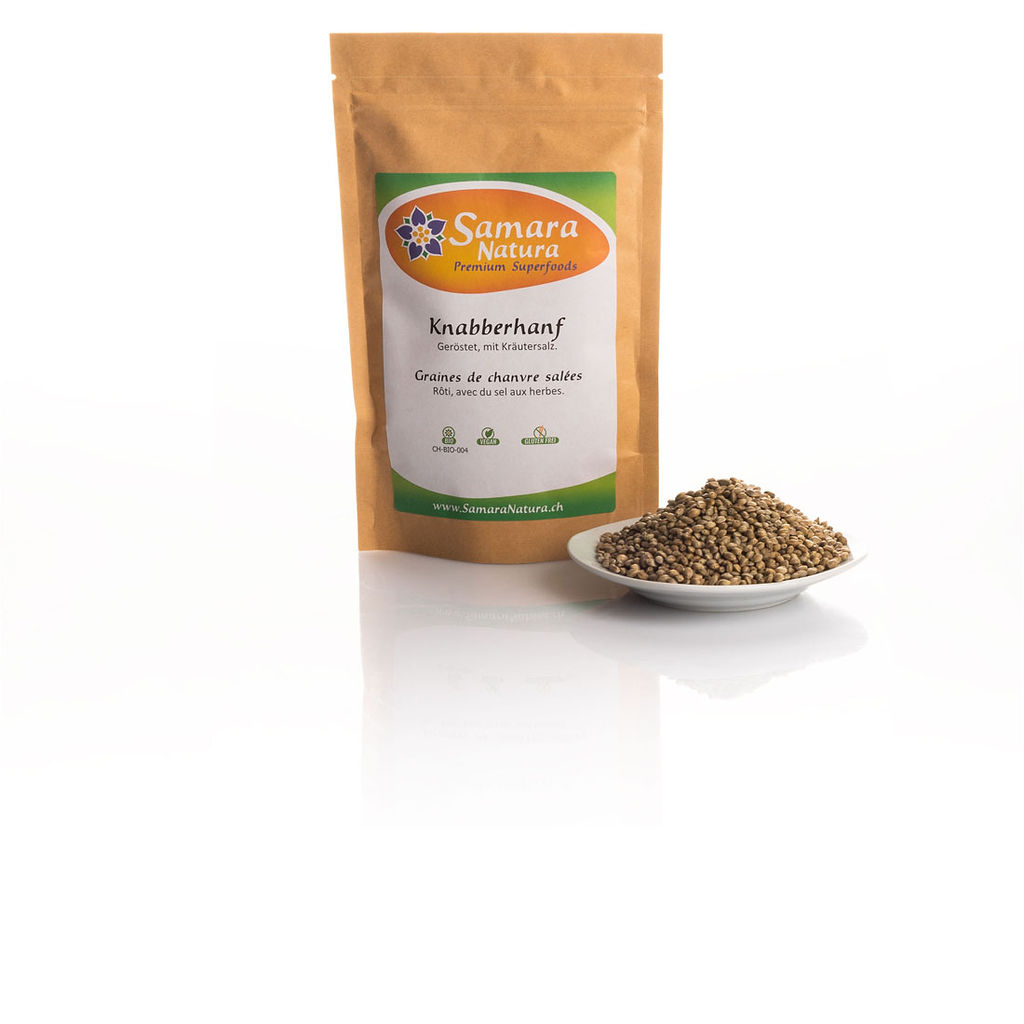 Hemp seeds salted organic
Organic salted hemp seeds - wholesome nibbling funThe salted hemp seeds are sold out and will be delisted due to poor demand. As an alternative, we recommend using whole/unpeeled hemp seeds and seasoning them yourself. You can also lightly roast them beforehand -> hemp seeds whole/unpeeled. With 13 herbs and sea salt, these whole, slightly roasted hemp seeds are seasoned. A full nibbling fun that also saturates and nourishes. Wonderfully sprinkled over salads too. The hemp seeds as well as the 13 herbs tarragon, lovage, rosemary, thyme, anise, basil, dill, fennel, marjoram, oregano, lemon balm, wild garlic and cumin are cultivated and processed organically in Austria. Hemp seeds have a high content of easily digestible protein and essential fatty acids as well as fiber.Hemp is probably from Central Asia. It has been used by humans for at least 5,000 years, and historical finds from this period are from China, India and Europe. Today, hemp is cultivated practically all over the world in the temperate to tropical zones. In hemp, a distinction is now generally made between THC-free hemp for the production of seeds as food and feed and fibers for materials and THC-containing medicinal hemp for use as a remedy and intoxicant. This Knabberhanf is obtained from legally approved hemp varieties. More interesting information about the properties of hemp and SamaraNatura hemp products can be found HERE. Since we as a dealer are only allowed to make a few statements about the health effects of food, we recommend that you yourself research the Internet for information about this product, i.a. to find on center of health. Why we love salted hemp seeds These lightly roasted hemp seeds with herbal salt are a fine alternative to other salty snacks, which also provides valuable nutrients and so can satisfy a little hunger without a guilty conscience. SamaraNatura organic salted hemp seeds The first-class ingredients for this product come 100% from Austria and are organically grown. Use salted hemp seeds The small seeds are suitable as a snack for in between and strewn over salads. Nutritional informations of salted hemp seeds per 100g Energiewert  1938 kJ/ 470 kcal Fat 34g of which saturated fatty acids 3g of which monounsaturated fatty acids 5g of which polyunsaturated fatty acids 26g Carbohydrates 2.6g of which sugars 2.6g Dietary fiber 6.1g Protein 23g Salt 1 g Omega 3 fatty acids (alpha-linolenic acid) 5.4 g All information is subject to the usual fluctuations in natural products.
Content: 150 Gramm (CHF 5.95* / 100 Gramm)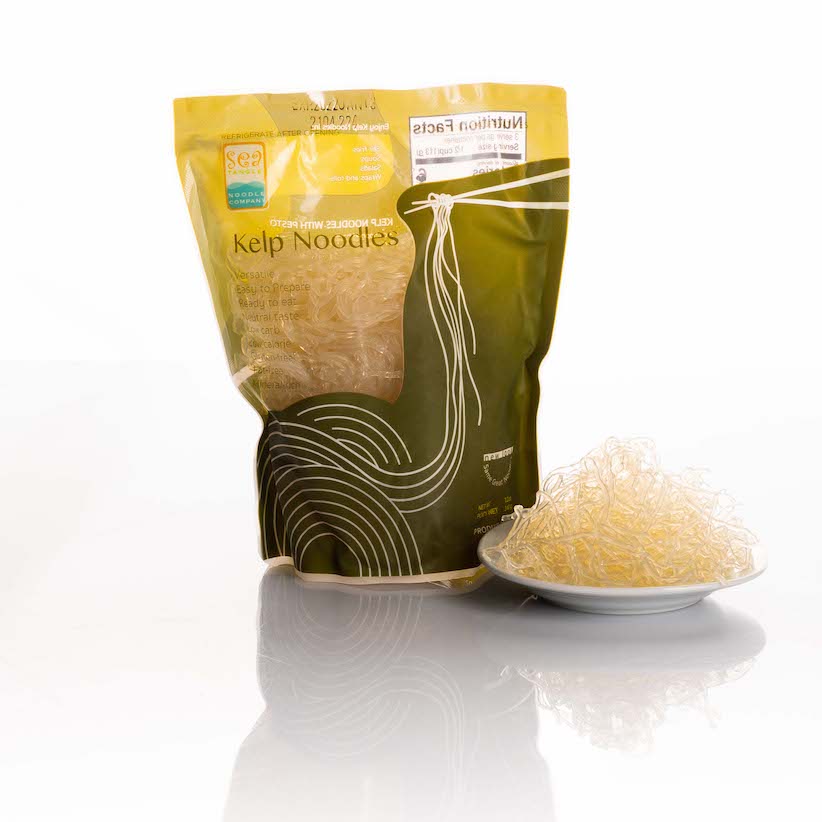 Kelp Noodles
Kelp Noodles - Low calorie pasta alternative Kelp noodles are a sea vegetable in the form of an easy to eat raw noodle. They are made of only kelp, sodium alginate, which is sodium salt extracted from a brown seaweed, and water. Kelp noodles are fat-free, gluten-free and very low in carbohydrates and calories. Their noodle form and neutral taste are readily transformed by any of your favourite raw dressings - from simple olive oil and tamari, to pesto and tomato sauce. Their healthful content provides a rich source of trace minerals including iodine, which kelp is well known for. Their unique texture completes the package, making kelp noodles a one-of-a-kind healthy and tasty alternative to pasta and rice noodles. Best of all, no cooking is required. Just rinse and add the noodles to any dish and they are ready to eat! Why we love Kelp Noodles Kelp noodles are crunchy, fresh tasting and not at all "fishy" - so neutral that they are an ideal substitute for regular pasta. 100% raw, 100% vegan, 100% gluten-free and boasts all of the health benefits of sea veggies. One serving of Kelp noodles has only 6 calories, an entire bag (340 g) contains only 18 calories! Compare that to any noodle product on the market. Kelp is full of iodine to work with our thyroid and to help regulate our metabolism, helping to loose weight if needed. Kelp noodles require no heating, preparing or soaking (unless you want to soak them). They keep for six months. Kelp noodles are not starchy or gummy like wheat noodles. They are slightly crunchy and far stronger than wheat noodles. So you can boil them in soups for as long as you want and they still hold together. SamaraNatura Kelp Noodles The company behind this product is Sea Tangle Noodle, which has been making Kelp Noodles in the USA since 2001. Sea Tangle uses sun-dried kelp minus the green outer layer, which is a skin. What is left is white and looks very much like the noodles. The dried kelp is made into a powder which is then added to water and sodium alginate, and then made into the noodles. No heat is used in the process of making the noodles.  Use Please follow the instructions on the package. We like to soak the noodles for 4 hours or overnight, or we just soak them in warm water before enjoying them. Prepare a dressing and toss it with the noodles and then warm it lightly below 40° C. You can cook them lightly if you are not too worried with the rawness of the final dish. Kelp noodles go well with stir-fries, hot broths, and casseroles. As raw food they are often used in salads, cold soups and with guacamole. If a meal needs to be done quickly just prepare a raw dressing made with olive oil, tamari, pesto or tomato sauce.
Content: 340 Gramm (CHF 2.21* / 100 Gramm)
Pistazien geröstet gesalzen Bio
Pistazien geröstet gesalzen in der Schale Bio Pistazien sind seit fast zehntausend Jahren ein Grundnahrungsmittel für uns Menschen. Pistazien sind keine Nüsse, sondern die Samen des Pistazienbaums. Unsere gerösteten Jumbo-Pistazien sind für ihren leicht süsslichen Geschmack bekannt. PlantLife bezieht sie von Bio-Farmen in Zentralasien, wo sie die Bauern persönlich kennen. Die Ernte muss sorgfältig durchgeführt werden, damit die feinen natürlichen Aromen erhalten bleiben. Wenn die äußere Schale der Pistazie von selbst aufbricht, ist es Zeit für die schonende Ernte. Anschliessend werden sie sanft geröstet, damit sich der komplexe, aromatische Geschmack entfaltet. Trocken und vor Hitze geschützt lagern. Mindesthaltbarkeitsdatum und Herkunftsland siehe Packungsunterseite. Verwendung Sie eignen sich hervorragend als leckerer Snack für zwischendurch sowie an Apéros. Warnhinweise Kleine Kinder können an Nüssen ersticken. Kann Schalenstückchen enthalten. Kann Spuren von anderen Schalenfrüchten enthalten. Nährwerte Pistazien geröstet gesalzen Bio pro 100g Energiewert 2447 kJ / 591 kcal Fett 46g - davon gesättigte Fettsäuren 5.5g Kohlenhydrate 18g - davon Zucker 7.7gBallaststoffe 10g Eiweiss 21g Salz 2gVitamin E 5.2mg (43%)* *gemäss Nährstoffreferenzwerte
Content: 265 Gramm (CHF 4.66* / 100 Gramm)