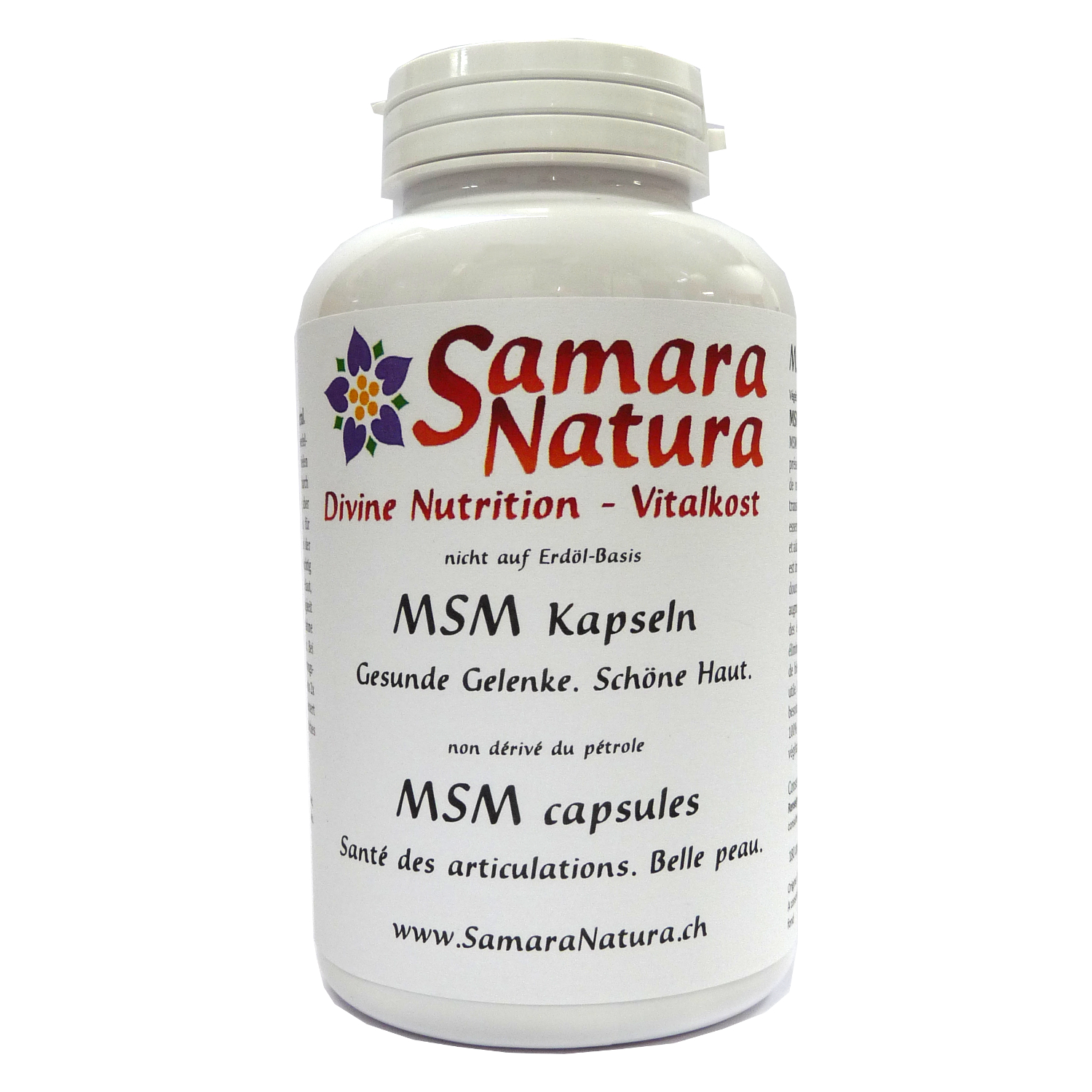 Quantity
Unit price
Base price
To

2

CHF 44.00*

CHF 24.44* / 100 Stück
From

3

CHF 41.80*

CHF 23.22* / 100 Stück
Available, delivery time: 1-4 days
MSM – Healthy Joints and Radiant Skin
MSM stands for Methylsulfonylmethane; it is a type of sulphur, which is naturally found within all cells of the human body and in many foods, but which is lost through food refining and processing.
MSM is involved in numerous metabolic processes. MSM promotes the production of important amino acids and is an essential building block for joints and cartilages as well as skin, hair and nails.
In the body, MSM softens leathery internal tissues by rebuilding connective tissue with elastic sulphur bonds. This is how MSM lives up to its reputation of building collagen and maintaining healthy joints. This is also why MSM increases flexibility (good for yoga), hastens recovery time from sore muscles, and is excellent for recovery from athletic injuries.
MSM deficiencies can cause increased sensitivity to pain, gastrointestinal issues, decreased immune function, arthritis, skin problems, and brittle, dry hair and nails.
Why we love MSM
MSM offers many benefits, but one of the major benefits that is joint pain relief. Oral MSM treatment is good against arthritic pain. Researches have also shown that MSM is good against muscle pain. It can reduce the pain and swelling but it does not cure arthritis. Doctors generally prescribe it as it reduces the need for medication! It is getting popular as a natural solution which many people prefer as they realize the negative effects of over-the-counter pain relieving medications.
MSM works to build collagen, helping to create smooth skin, thick, lustrous hair, and strong nails.
Since MSM increases the permeability of cell membranes, nutrient uptake can work better and faster and toxins and metabolic waste can be eliminated more effectively.
SamaraNatura Plant-derived MSM Capsules
SamaraNatura MSM is a 100% pure plant product derived from oilseeds grown in Europe. Most MSM supplements currently available are obtained from petroleum sources. This MSM comes as a pure white crystalline powder in Vegi-capsules made of cellulose.
Use
For the best absorption of MSM, the powder or flake forms are highly recommended. Capsules or tablets may be taken; however, these are slower to digest and become absorbed.
For first-time users, it is advised that they take MSM supplements with a meal, to prevent heartburn, drink plenty of water, and only take the smallest recommended amount of MSM. Typically, new consumers try 1 capsule each day for one week. Eventually, consumers may increase their doses to 2x 2 capsules per day, or according to individual intestinal strength. Consumers will eventually be able to supplement without the addition of foods; it takes about two weeks before results are apparent.
MSM makes a person feel more energetic; doses should be taken in the morning and early afternoon, so as to prevent insomnia.
MSM powder displays a remarkable affinity for foods rich in Vitamin C. Maximum benefits may be obtained by mixing 1 tbs of MSM powder with 1 ts of camu camu berry powder in 3 cups of water or juice. Camu camu contains the highest levels of Vitamin C of any food in the world, making this combination beneficial for immunity and essential for building supple, radiant skin.
SAFETY: Since MSM can thin the blood, people must consult with a qualified healthcare provider before supplementing their diet, if they use aspirin or blood-thinning medication.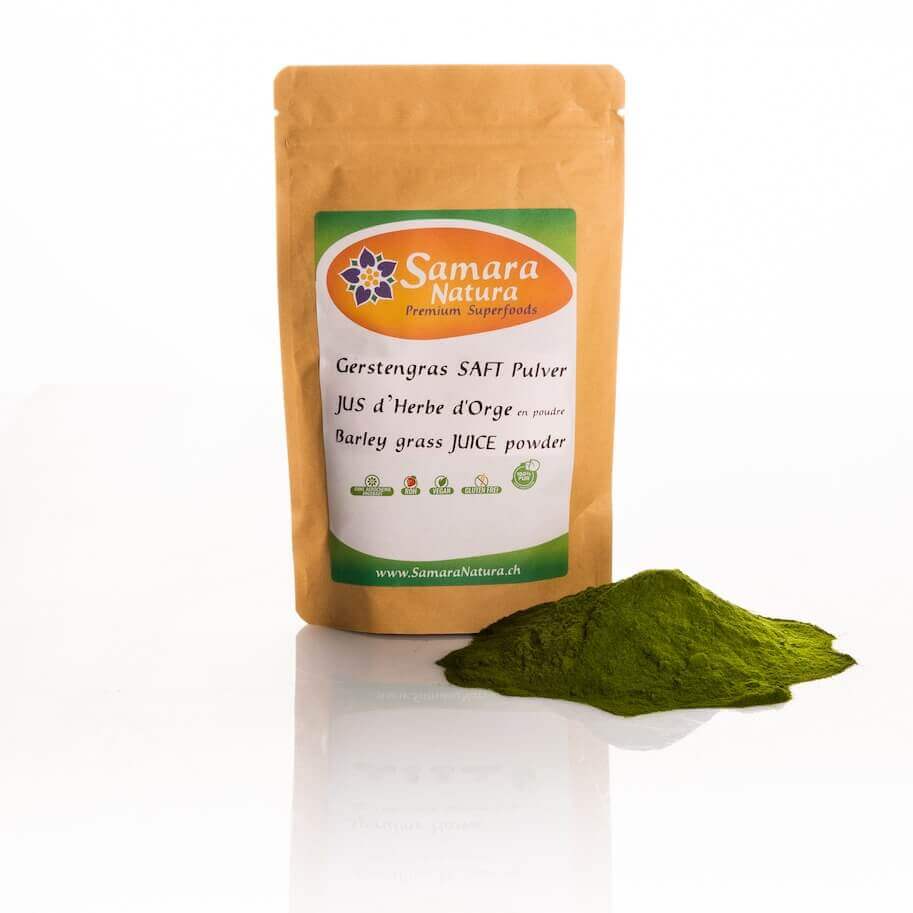 Barley Grass Juice Powder Organic
Barley grass JUICE powder - the concentrated version Update: The 125g variant is currently sold out. 250g and 500g bags are still available. The new batch is currently being packaged and can be ordered on 8. December 2023. For our organic barley grass juice powder, the juice from young barley grass is pressed and then gently processed into powder. It is 100% pure juice powder, without any additives or carriers such as maltodextrin. What is the difference between barley grass powder and barley grass juice powder Barley grass itself contains all the good nutrients and vital substances from green vegetables in a practical, concentrated and easily digestible form. The two forms of processing into grass powder and juice powder both have their respective advantages. The main difference between grass powder and juice powder is the content of dietary fiber / fiber. In the case of barley grass powder, this is a very high 35 to 40%. Dietary fiber has a satiating effect, stimulates digestion and prevents constipation. In contrast, our barley grass juice powder only contains 5.7% fiber. As a result, the nutrients and vital substances (including chlorophyll) are available in a concentrated form. Another important difference is the taste. While the grass powder tastes like dried grass (slightly tart), flavors such as spinach and green herbs and a salty finish dominate the juice powder. Visually, both variants can be differentiated well. The grass powder has a much lighter green than the juice powder. All further information about barley grass powder can be found here. SamaraNatura barley grass juice powder Our organic barley grass juice powder comes from a pristine area of ​​the United States, where it is harvested at the time of highest nutrient density. The producer has optimized the processing process for many years and now guarantees raw food quality, i.e. all processing takes place below 42° C. The rich green color testifies to the richness of chlorophyll (vegetable green). Why we love barley grass juice powder We love barley grass juice because it contains many valuable vital nutrients. The chlorophyll contained is also beneficial. However, not everyone has the time and desire to grow fresh grass and squeeze it into juice. Our juice powder is a good and easy alternative. Simply mix with water and you have pure barley grass juice. Use barley grass juice powder Initially increase ½ tsp daily, if necessary increase to ½ - 1 tsp 2-3 times a day. It is best to drink half an hour before meals. The barley grass juice powder goes perfectly with water and many other liquids such as Smoothies orange juice Coconut water Water kefir fresh fruit and vegetable juices Weight variants The barley grass juice powder is available in both 125g and 250g bags. The 125g version appears as standard. The weight can be changed at the top right. Nutritional values barley grass juice powder per 100g (Portion 1 tsp. = 2g) Energy 1351kJ/323kcal (27kJ/6kcal)Fat 1g (0.02g)of which saturated fatty acids 0.4g (0.08g)Carbohydrates 35g (0.7g)of which sugar 20g (0.4g)Fiber 5.7g (0.11g)Protein 32.2g (0.64g)Salt 1.6g (0.03g)
Content: 125 Gramm (CHF 20.80* / 100 Gramm)