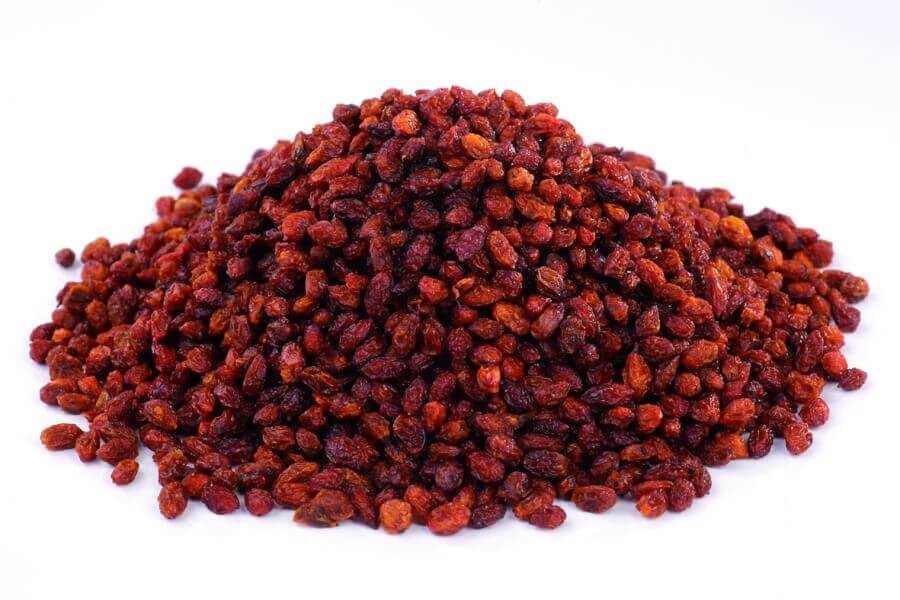 Quantity
Unit price
Base price
To

2

CHF 18.00*

CHF 14.40* / 100 Gramm
From

3

CHF 17.10*

CHF 13.68* / 100 Gramm
Organic dried sea buckthorn berries - unsweetened & from wild collection
Why buy sea buckthorn berries?
An analysis carried out by the retailer provided evidence of the sensational amounts of vital substances in sea buckthorn. The berries have a very high omega 7 fatty acid and B12 content. This high content is probably only contained in the Uzbek wild-collected organic sea buckthorn. Cultivated sea buckthorn usually has much lower levels and vitamin B12 in plant foods is very rare!
Dried sea buckthorn contains mostly the same vital substances and nutrients as fresh sea buckthorn, only in a more concentrated form because the water has been removed.
These wild sea buckthorn berries have an intense, spicy and very sour taste. They have a strong, intense light - to dark orange color. The pulp surrounds a core, which is also dried. This results in a crispy consistency.
What makes our wild organic sea buckthorn berries special?
When fully ripe, the wild sea buckthorn berries are picked by hand, washed and gently dried with the help of the sun. The drying process used is a very environmentally friendly solar drying method that is extremely gentle on the product.
The organic sea buckthorn berries are:
• unsulphured (according to EU organic regulation)
• without artificial additives
• without preservatives
• without dyes
Where do our organic sea buckthorn berries come from?
Wild harvested organic sea buckthorn berries are very hard to come by. We could buy a batch with origin Ukraine. These wild sea buckthorn berries come from the Lemberg/Lviv region in western Ukraine, near the Polish border. They are packed in 125g bags.
How to integrate into the daily diet?
The dried organic sea buckthorn berries are suitable as a small, refreshing snack or as a varied ingredient in your power muesli. To round off the sour taste, you can combine the sea buckthorn with nuts and sweet dried fruits such as raisins. Or you can use a healthy sweetener like agave, yacon or apple syrup.
Origin
Wild collected and processed in Ukraine.
Nutritional values of sea buckthorn berries per 100g
Energy value 1116kJ/270kcal
Fat 21.5g
of which saturated fatty acids 1.2g
carbohydrates 8.9g
of which sugar 8.8g
protein 5.5 g
Salt 0.037g
All information is subject to the usual fluctuations in natural products.
Storage: Store in a cool, dry and dark place.