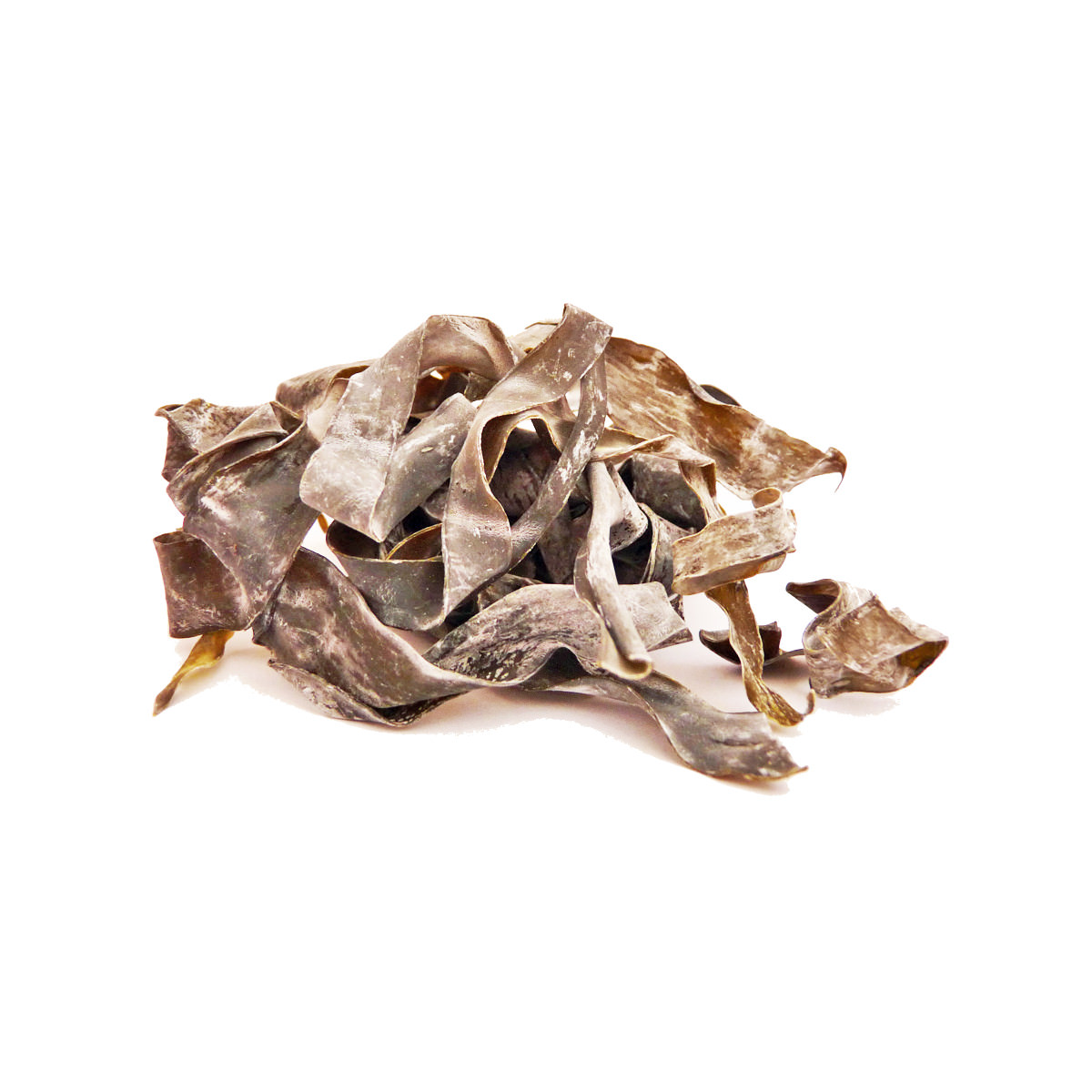 CHF 8.30*
Content:
40 Gramm
(CHF 20.75* / 100 Gramm)
Available, delivery time: 1-4 days
Atlantic Kombu
Warning: Due to the high, natural iodine content, Atlantic Kumbo is not suitable for consumption. Consumer applications such as face masks are possible.
Kombu (Laminaria digitata) belongs to the species of the large brown algae (Kelp) that grows in dense, shallow beds in the quiet waters of secluded bays.
Atlantic kombu is a thinner, more tender variety of Japanese kombu and can be used exactly the same way. It is great roasted, fried, boiled, sautéed and marinated. Kombu is a must for all soup stocks, enriching flavour and nutrition. You should never cook beans without it as it tenderizes, shortens cooking times and increases digestibility.
Kombu is a rich source especially of calcium, potassium and magnesium and it offers substantial amounts of some of the B vitamins. It also contains mannitol, a natural sugar molecule that gives it a slight sweetness and glutamic acid, an amino acid.
Why we love Kombu
It is a wonderful nutritious addition to any cooked dish, especially soups and beans/legumes. You can add a few strips of Kombu to bean dishes to speed up cooking time and improve the bean's digestibility by reducing the chemicals that can cause flatulence.
SamaraNatura Kombu
Our sea vegetables are wild harvested and hand-picked from the clean waters off North West Donegal (Ireland). They are gently dried using a cool air process, and brought to you fresh and raw.
Use
To eat kombu straight from the bag tear it into strips. A salty, long-lasting chew, which gets sweeter after a while.
For best cooking results, in general soak kombu in water for 10 minutes and simmer in dishes for 40 minutes.
Soups – Replace chicken or beef stock with kelp stock. Simmer a 8 cm strip per litre of liquid at least 10 minutes. Leave kombu in for richer broth, or remove, chop and put back in soup.
Salads – Tenderize kombu by soaking (1 hour), marinating (1–24 hours), roasting or pan-frying. Chop or crumble to bite-sized and toss with salad.
Beans – Natural glutamates in kombu enhance flavours and tenderize high protein foods like beans. Add a 5 cm strip to bean cooking water, leave in at least 10 minutes. For a thick, rich bean broth leave kombu until beans are cooked. No need to add salt.
Snack or Garnish – Tear or cut kelp into bite-sized pieces. Roast at 150° C for 3–5 minutes or (dry-)roast in a skillet until crisp. Sprinkle these kelp-chips on salads, grains, pasta or eat them as a delightful snack.
Sea Vegetables in general
Sea vegetables or seaweed are wild ocean plants found on coral reefs or rocky areas, growing mainly in marine salt waters. Sea vegetables are enjoyed daily as staple and healing foods in many coastal parts of the world. Small amounts of sea veggies add a rich flavour and enhance the nutritional value of most dishes.
Sea vegetables offer the broadest range of minerals of any food, containing virtually all the minerals found in the ocean! They are an excellent source of calcium, iodine and sodium; a very good source of folic acid and magnesium, a good source of iron, potassium, B2 and B5. They also contain vitamin K and trace minerals like selenium and chromium that can be lacking in our land-grown foods due to soil depletion.
Regular, long-term dietary inclusion is reputed to help regulate metabolism and energy, stimulate the immune system, soothe the digestive tract, cleanse the blood, maintain healthy cellular function and support the proper functioning of the endocrine glands, especially the thyroid.
Sea vegetables are a perfect substitute for salt in the diet.