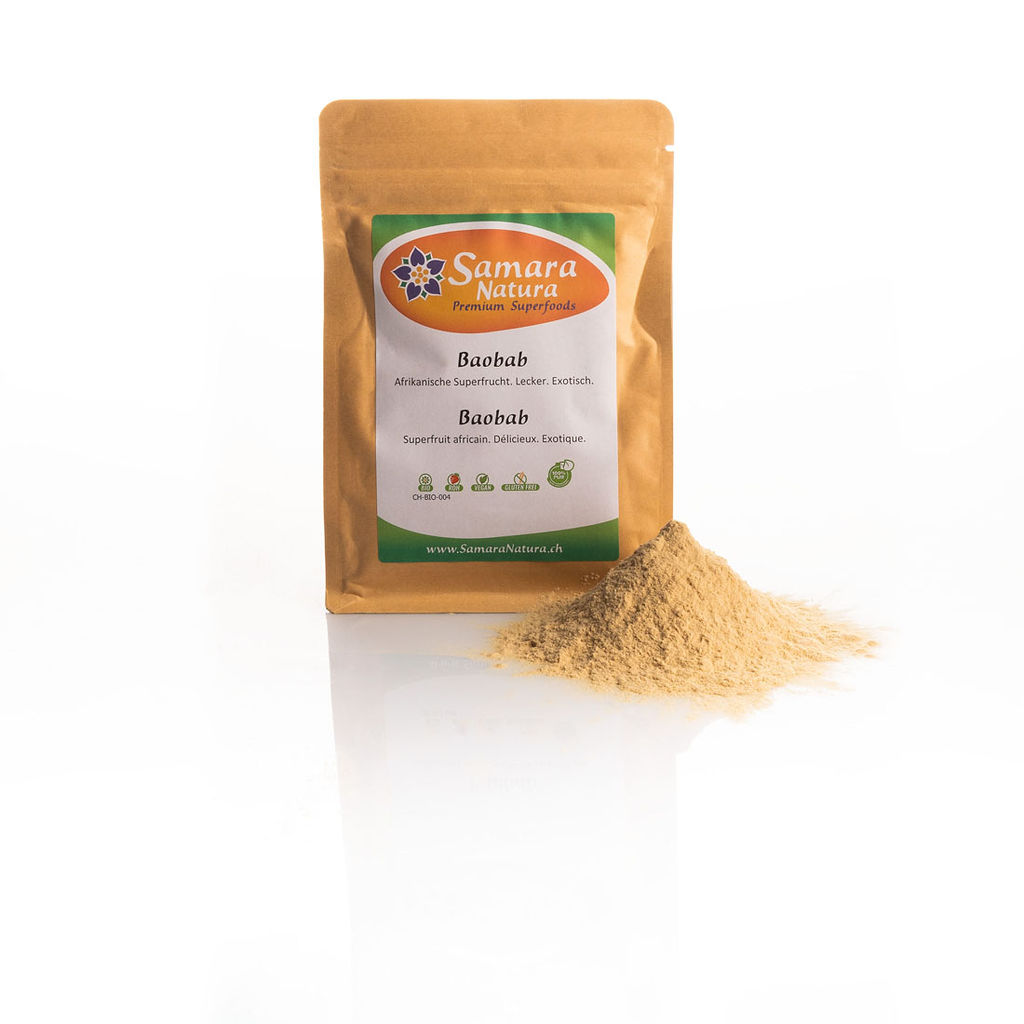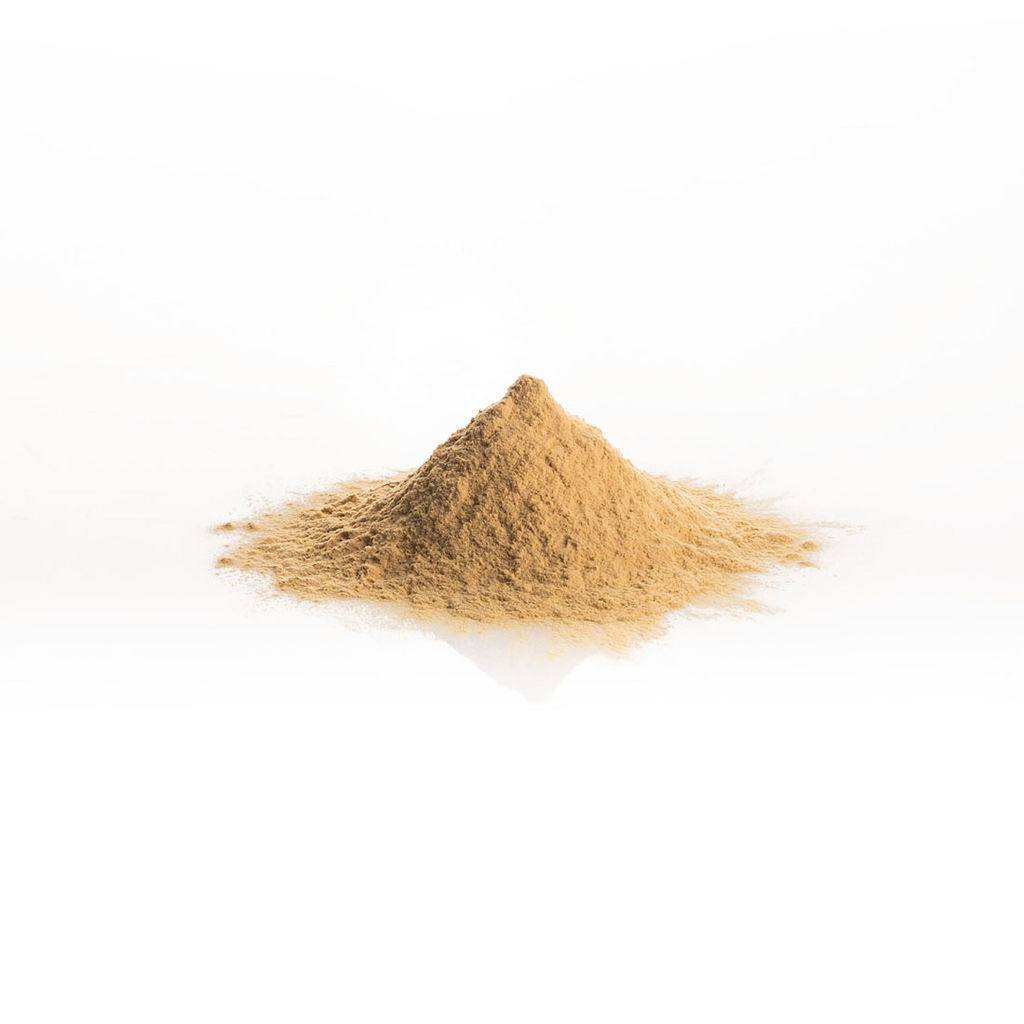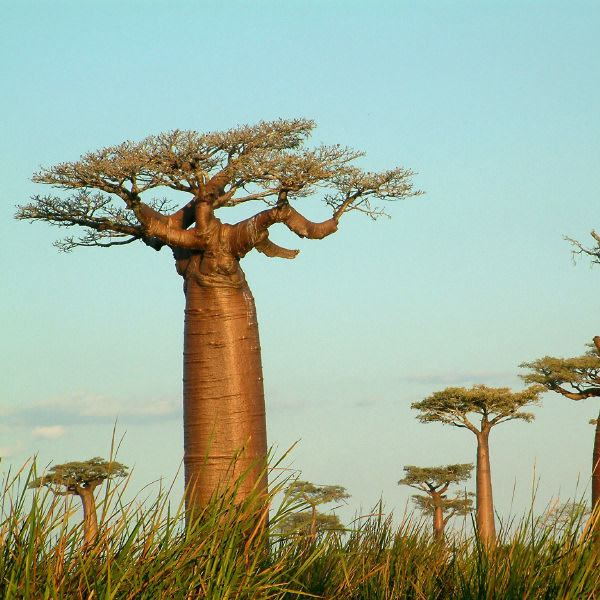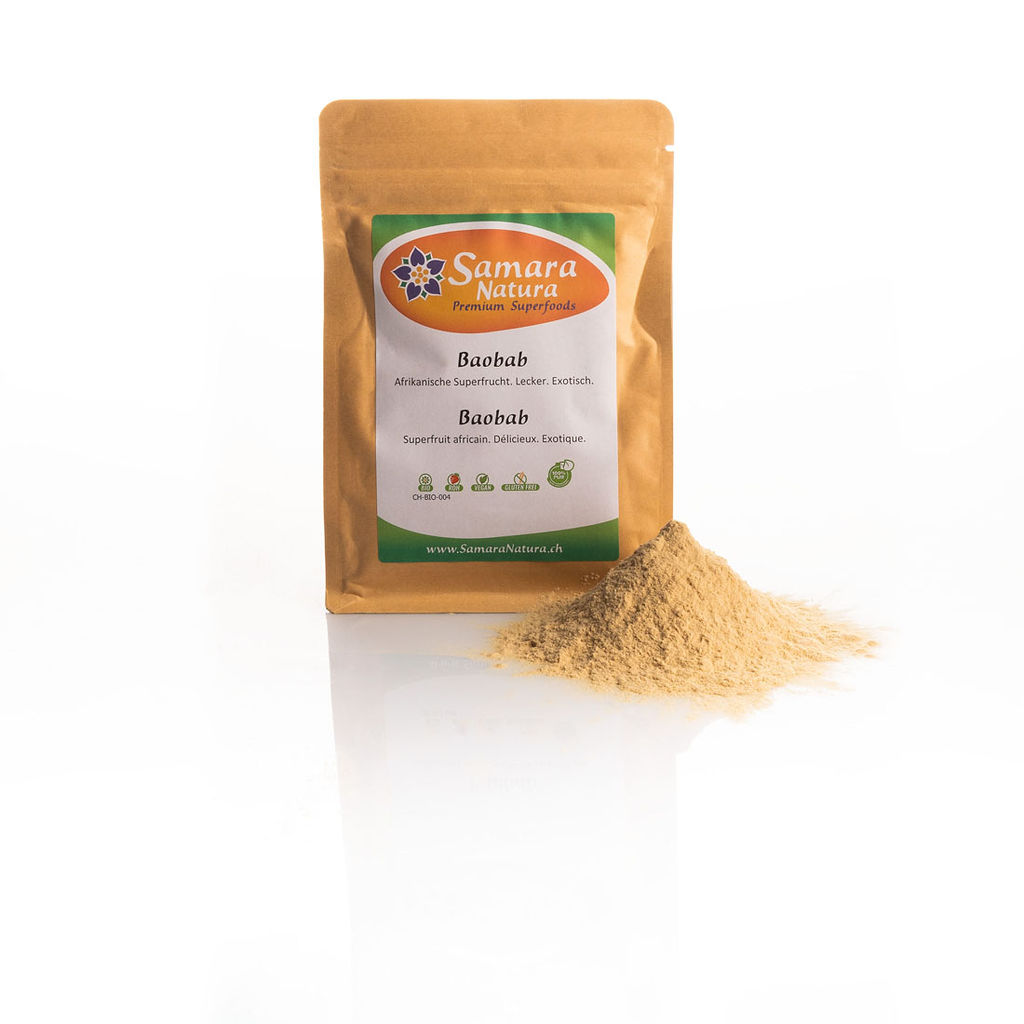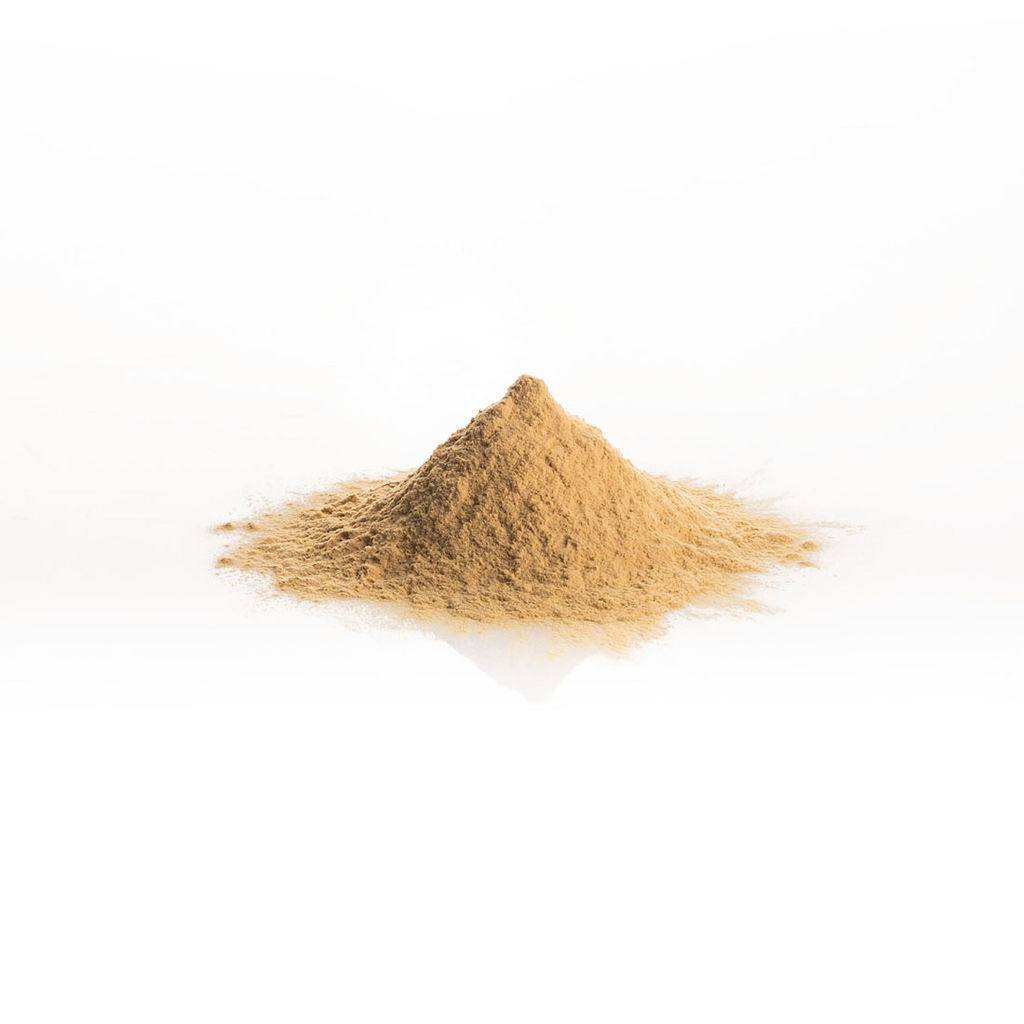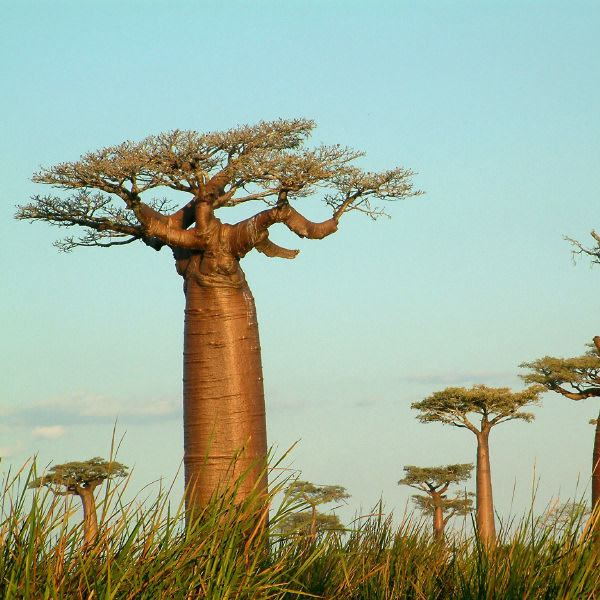 Quantity
Unit price
Base price
To

2

CHF 21.10*

CHF 8.44* / 100 Gramm
From

3

CHF 20.05*

CHF 8.02* / 100 Gramm
Available, delivery time: 1-4 days
Baobab – the African super fruit
Why Baobab Powder?
Baobab has a slightly citrusy, fruity, refreshing taste and is rich in vitamin C and the minerals calcium, potassium, iron and magnesium. Due to its favorable calcium-phosphorus ratio in combination with vitamin C, the bioavailability of calcium and iron is particularly good. Baobab is great for vegans because it's high in calcium - twice as much as milk.
Effect of baobab powder?
The baobab fruit has approx. 50% dietary fiber - half the particularly valuable soluble dietary fiber - and thus supports the intestinal functions and a favorable, regular digestion. Baobab also contains numerous phytonutrients that, as powerful antioxidants, help to protect cells and vessels from free radicals.
What makes our baobab powder special?
Our baobab powder is 100% pure, raw and chemical free. The pod contains the seeds and the naturally dried pulp. The natural fruit powder is separated from the seeds and fibers in a mechanical process.
Origin of our babobab powder
This superfruit is native to Africa. By spreading to the western world, distribution helps African communities reduce poverty while preserving nature. So baobab is good for us, good for Africans and good for the environment.
The African baobab tree (Adansonia digitata) or baobab tree (from Arabic bu-hubub) is a characteristic part of the African savannah. It's also jokingly called the "inverted tree" because it looks like its roots reach up into the sky in a ghostly silhouette. Africans have valued this tree and its fruit for a long time and have given it various names such as tree of life and magic tree. Its thick trunk can store up to 300 liters of water, enabling the tree to survive long periods of drought.
The nutritious fruit powder forms naturally in the ripe fruit pod, which also contains the seeds.
Tips for use in everyday life
We like the taste and use it pure with water and a little sweetener - a real treat. It can be used wonderfully as an ingredient in all cocoa and dessert creations and gives them a delicious, slightly sweet and sour note.
Due to its high pectin content (approx. 25%), baobab powder is particularly suitable for recipes where binding or thickening properties are required. In addition, baobab is a natural flavor enhancer and gives every dish, whether sweet or savory, a special touch.
Baobab also goes well with muesli, in yoghurt, nut milk and as an ingredient in baked goods and desserts (with cocoa). If you like it sweeter, just add a teaspoon of agave syrup.
Recipe with baobab powder
Try a refreshing vitality drink: mix 1 to 2 teaspoons of baobab powder with water and lemon or add it to juice or your favorite smoothie.
Nutritional information Baobab powder per 100g

Energy
901 KJ / 218kcal
Fat
0.3g
of which saturated fatty acids
0.1g
Carbohydrate
25.3g
of which Sugar
19.1g
Dietary fibers
52.4g
Protein
2.4g
Salt
0.0g
Vitamin C 
280mg (350%*)
Calzium 
293mg (36%*)
Iron
 6mg (43%*)
Magnesium 
148mg (39%*)
*of the recommended daily dose.
All information is subject to the usual fluctuations in natural products.
---
Perfekt für meine Smoothies.
Affenbrotbaumfrucht, lecker, fruchtig für meine Smoothies in grossartiger Qualität. Reich an Vitamin C, Eisen, antioxidativ wirksamen Polyphenolen und vielen weiteren Vitalstoffen. Zusammen mit den Chlorellatabletten, habe ich meinen Eisenwert endlich im grünen Bereich
Ein allgemeines Danke, dass Sie so tolle Produkte anbieten und einen schönen Abend - Mit herzlichem Gruss M.S.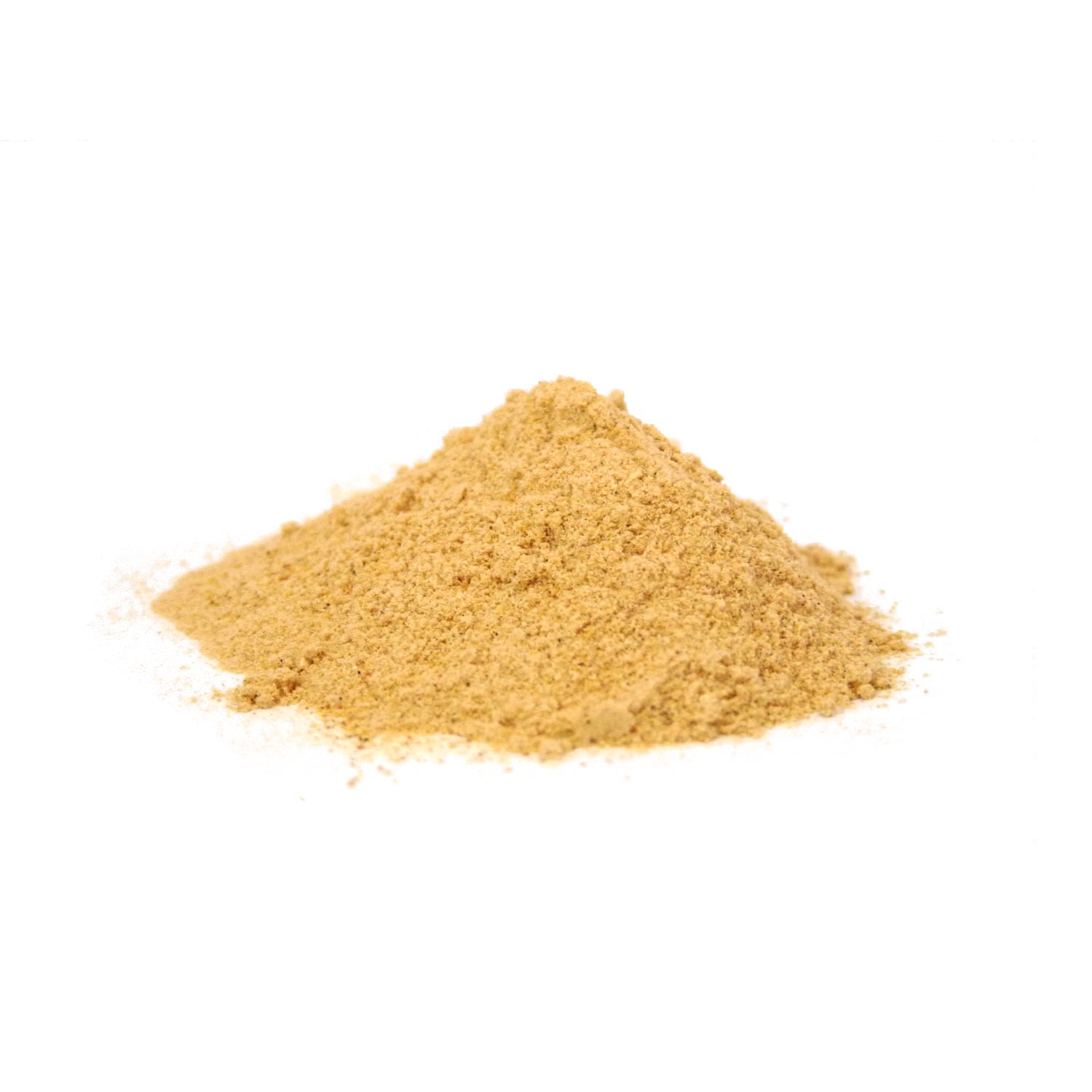 Organic Mesquite Powder
Mesquite powder - sweetener from the desert Mesquite was a traditional staple food of the indigenous people of the arid regions of North and South America. Today, mesquite powder is being rediscovered as a nutritious and tasty food and used all over the world. Mesquite has the sweet, wild taste of the desert with a hint of caramel and is versatile. Mesquite has a protein content of approx. 14% and is rich in calcium, magnesium, iron, zinc and the amino acid lysine, which is rarely found in a grain-heavy diet. Mesquite is 25% fiber and has a low glycemic index. Mesquite flour is naturally gluten-free. Why We Love Mesquite Powder Mesquite has a sweet, malty taste that is similar to carob, but with a caramel flavor. The full-bodied taste and aroma goes well with vanilla and chocolate and it gives sweet treats a delicious maltiness. Mesquite can be mixed with nut milk, is an excellent ingredient in smoothies and is delicious sprinkled on ice cream. An exquisite malty chocolate can be made with it, and mesquite can also be used as a partial aromatic substitute for flour. It is a wonderful food to experiment with SamaraNatura organic mesquite powder Our mesquite powder is made from the whole pods of the mesquite tree, which are gently dried and then processed into a flour or powder. Since there is no guarantee that the temperature will always remain below 42°C during drying, we refrain from using the term raw food quality. How to use Mesquite is a delicious ingredient for cakes, desserts, smoothies, ice cream and homemade bread. It tastes particularly good in combination with cocoa and maca. Nutritional values ​​mesquite per 100g Energy value 1573kJ / 376kcalFat 0.95g- of which saturated fatty acids 0.22gCarbohydrates 80.28g- of which sugar 34gDietary fiber 29.18gProtein 11.6gSalt 0.92g
Content: 250 Gramm (CHF 5.52* / 100 Gramm)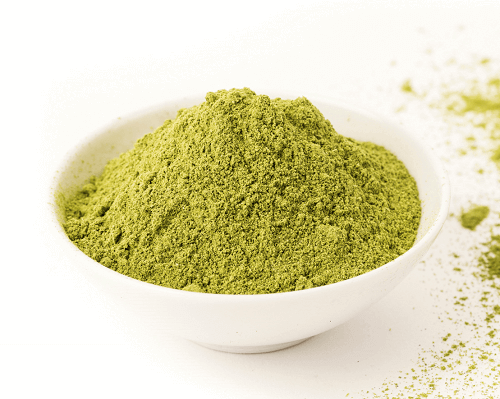 Moringa powder organic
Organic Moringa powder - the super powder from the subtropics For this high-quality moringa powder, the organic moringa leaves are harvested by hand and dried in special dehydration rooms, protected from the sun and under the best hygienic conditions, at temperatures below 40°C. The leaves are then processed into leaf fragments and further into leaf powder. The fastest possible further processing is important, since the first signs of decomposition already appear 6 hours after harvesting. This is the only way to preserve as many of the nutrients and vital substances as possible. Why Moringa powder is healthy Moringa is an incredibly interesting and useful plant. The leaves contain up to 90 different nutrients. It has 7 times more vitamin C than oranges, 4 times more vitamin A than carrots, 3 times more potassium than bananas, 4 times more calcium than milk and an additional 8 essential amino acids. You can find an interesting video about Moringa here: https://www.prosieben.ch/tv/galileo/videos/2013136-webphaenomen-magischer-samen-clip How to use Moringa powder The taste of Moringa powder is reminiscent of green leaves with a slightly tart note. The powder is very finely ground and is suitable as an ingredient for smoothies, drinks, tea and salad dressings. powdery and ideal for further processing. We recommend a daily amount of 2 to 3g, i.e. 1 to 2 teaspoons. Moringa powder from Naturkostbar Since we regularly receive requests from customers for a high-quality Moringa powder, but for reasons of capacity we would like to wait before launching our own brand SamaraNatura, we have decided on the quality product from Naturkostbar. Bag content: 100g pure organic moringa powder.Nutritional Information Organic Moringa Powder per 100gEnergy / nutrient per 100g g/mg/μg %1Energy 1055kJ (248kcal) 13%Fat 2.3g 3%of which monounsaturated fatty acids - -of which polyunsaturated fatty acids - -of which saturated fatty acids 0.8g 4%Carbohydrates 29g 11%of which sugars - -Protein 28.1g 56%Salt - -Fiber 22.8g 46%Vitamin A 16.3µg 2%Vitamin C 17.3mg 22%Vitamin D - -Vitamin E 113mg 942%Vitamin K - -B-carotene (provitamin A) - -Vitamin B1 2.64mg 240%Vitamin B2 20.5mg 1464%Vitamin B3 8.2mg 51%Vitamin B6 - -Vitamin B12 - -Magnesium 368mg 98%Copper 0.6mg 60%Manganese - -Selenium - -iodine - -Folic Acid/Folacin - -chloride - -Potassium 1324mg 66%Biotin - -pantothenic acid - -Calcium 2003mg 250%Phosphorus 204mg 29%Iron 28.2mg 201%Zinc - -molybdenum - -Fluoride - -Chrome - -1 reference amount/daily dose for an average adult (8400kJ/2000kcal)