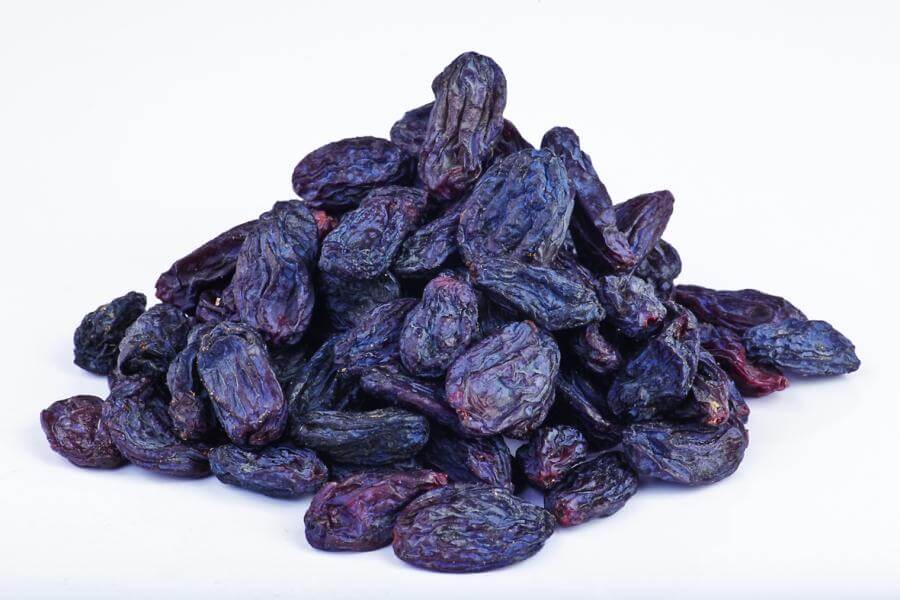 Quantity
Unit price
Base price
To

2

CHF 16.50*

CHF 6.60* / 100 Gramm
From

3

CHF 15.68*

CHF 6.27* / 100 Gramm
Available, delivery time: 1-4 days
Black Bukhara Raisins Organic
Organic Fairtrade Black Bukhara raisins, dried are particularly beautiful, matt, glossy, black, large raisins. The flesh is soft, intensely sweet and fruity, contains no seeds and the skin is strong.
Origin
This raisin owes its name to the city of Bukhara, one of the most important cities in Uzbekistan, which with its numerous buildings is a UNESCO World Heritage Site. The city was an important center of the Persian Empire and an important traffic junction on the southern Silk Road.
How to use
As a snack in between. Add to salads, muesli and yoghurt or combine with other dried fruits, nuts or cocoa chips.
Warning: May contain traces of nuts
Nutritional values Black Bukhara Raisins Organic per 100g
Energy value 1262kJ / 298kcal
Fat 0.6g
- of which saturated 0.2g
Carbohydrates 68g
- of which sugar 63g
Dietary fiber 3.7g
Protein 2.5g
Salt 0.05g


---
Die Bukhara Rosinen aus Usbekistan sind bei Weitem die Besten im Geschmack.
Sauerkirschenmüesli Rohkost
Sauerkirschenmüesli in Rohkostqualität und ohne Süssungsmittel Danny Schmid vom Rohkost Hüsli in Bülach stellt dieses komplett ungesüsste Sauerkirschenmüesli in Handarbeit selbst her. Nebst diesem führen wir auch ihr Frühstücksmüesli und Aprikosenmüesli im Sortiment. Da das Sauerkirschenmüesli aus frischen Bio-Zutaten und ohne Konservierungsstoffe in Rohkostqualität hergestellt wird, hat es lediglich ein Mindesthaltbarkeitsdatum von 3-6 Monaten. Warum wir dieses Sauerkirschenmüesli lieben Der knusprige Biss zusammen mit dem nussigen (Buchweizen und Mandeln) sowie fruchtigen Aroma (Sauerkirschen) bilden eine sehr leckere Kombination. Die sehr dezente Süsse stammt allein von den Apfelstücken und dem Apfelmus. Es wird kein zusätzliches Süssungsmittel verwendet! Die Stücke sind für ein Müesli untypisch gross, eignen sich dadurch jedoch nicht nur zum Frühstück, sondern auch als feiner Snack für Zwischendurch.  Sauerkirschenmüesli vom Rohkost Hüsli Um die Enzyme und Vitamine zu steigern, lässt Danny die Mandeln während 12 Stunden, den Buchweizen währen 2 Tagen ankeimen. Sie benutzt aus Überzeugung ausschliesslich Bio Zutaten. Da sie als kleine Firma jedoch nicht Bio-zertifziert ist, wird dieses Sauerkirschenmüesli nicht als Bio verkauft. Zutaten Sauerkirschenmüesli Buchweizen (angekeimt) Mandeln (angekeimt) schwarzer Sesam Chia-Samen Apfelwürfel getrocknete Sauerkirschen Zitronen Orangen Apfelmus Goldleinsamen Salz Alle Zutaten sind Rohkost.
Content: 200 Gramm (CHF 6.55* / 100 Gramm)