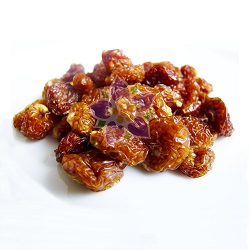 Quantity
Unit price
Base price
To

2

CHF 15.90*

CHF 6.36* / 100 Gramm
From

3

CHF 15.11*

CHF 6.04* / 100 Gramm
Available, delivery time: 1-4 days
Inca Berries – Sweet and sour Superfruits
Inca berries (Physalis peruviana), also called Andean or Cape gooseberries, grow wild on the mineral-rich soils of the Peruvian Andes and have been enjoyed in South American cultures for thousands of years.
An ancient food and one of the last cultivated products of the Incas, which has been rediscovered worldwide for several years. The delicious, sweet and sour berries grow in protective paper-like wrappers that look like small Chinese lanterns.
Why we love Inca Berries
Inca berries have an exquisite, exotic, sweet and sour taste that is second to none. A delicious snack. Connoisseurs like to enjoy them with chocolate products and wine.
The Inca berry is also known as the "Goji berry of South America". The small, chewable kernels of the Andean berries have a slight laxative effect.
SamaraNatura Organic Inca Berries
SamaraNatura Inca berries are raw food quality and are grown without pesticides or agrochemicals. Our Inca berries are soft and relatively sweet, not as sour as you usually find them.
Harvesting and drying these precious little berries is very time-consuming work, hence the relatively high price. In fact, it takes a person a full day to clean just 10 kg of fresh fruit. The berries are placed in sun dryers and removed again when they have reached the perfect level of moisture and are still a little soft. You need about 3 kg of fresh fruit for 500g of dried berries.
Use
Excellent as a snack on its own. Their exquisite, exotic taste goes perfectly with chocolate and wine. Inca berries enrich many desserts, smoothies, mueslis, baked goods, trail mix and jams. The unmistakable balance of sweet and sour taste also goes well with chia pudding and Lucuma.
Nutritional values Inca berries (Physalis) per 100g
Energy value 1276kJ / 304kcal
Fat 5.6g
of which saturated fatty acids 0.5g
Carbohydrates 49.0g
of which sugar 34.4g
Protein 6.6g
Salt <0.1g
---
Wunderbares Produkt, gut verpackt, schnelle Lieferung… was will man mehr!
Ich möchte Ihnen noch gerne rückmelden, dass ich sowie meine Klienten sehr zufrieden sind mit Ihren Produkten, auch mit diesen Inka-Beeren. A. K. Naturheilpraxis