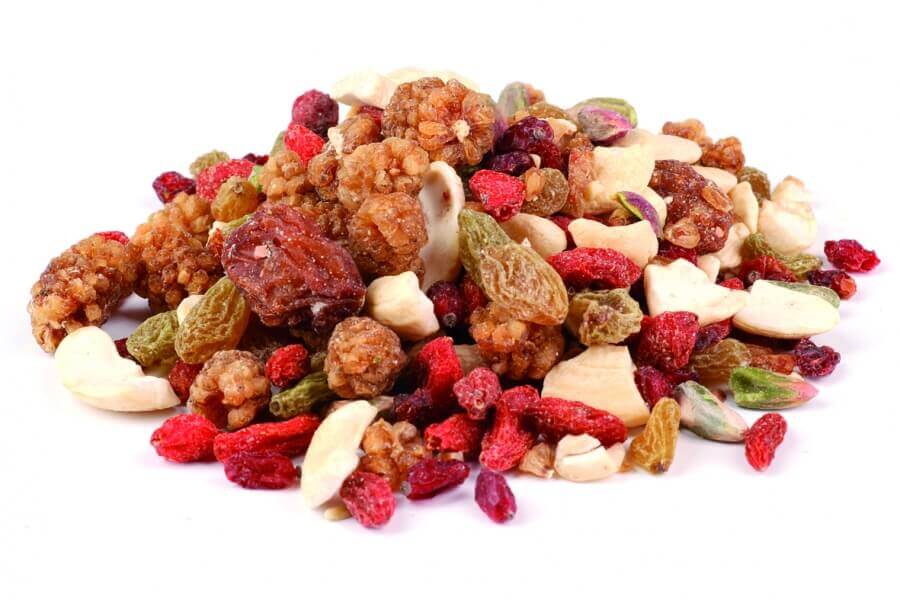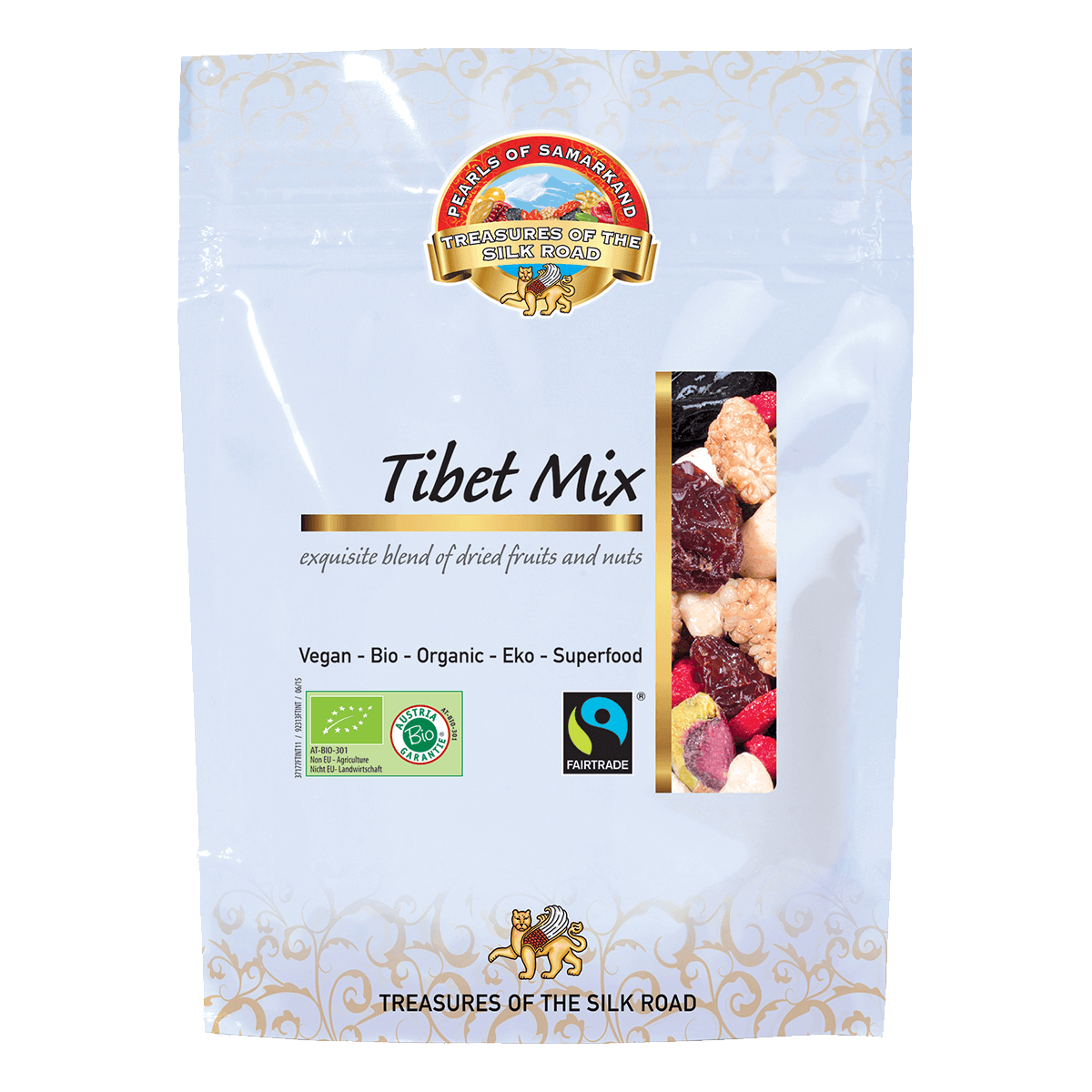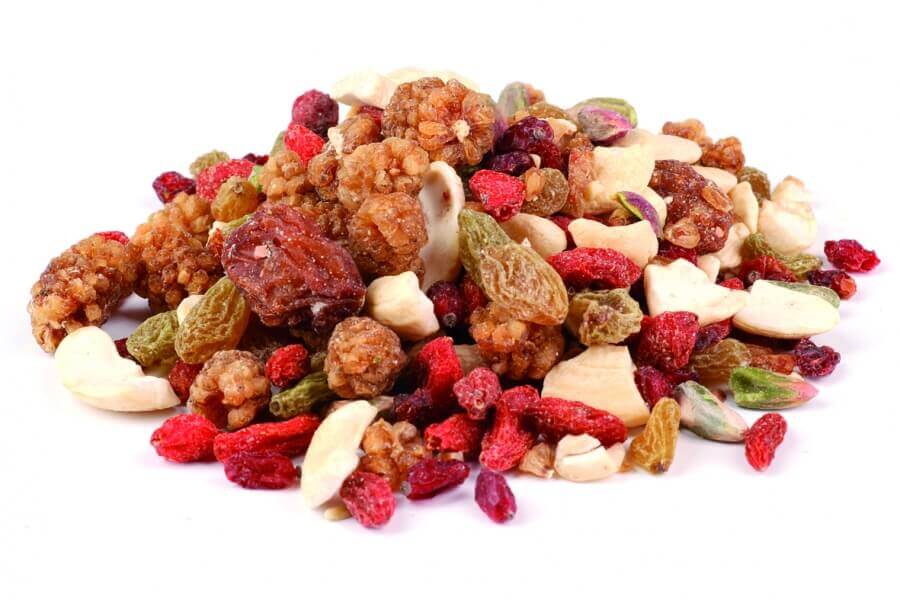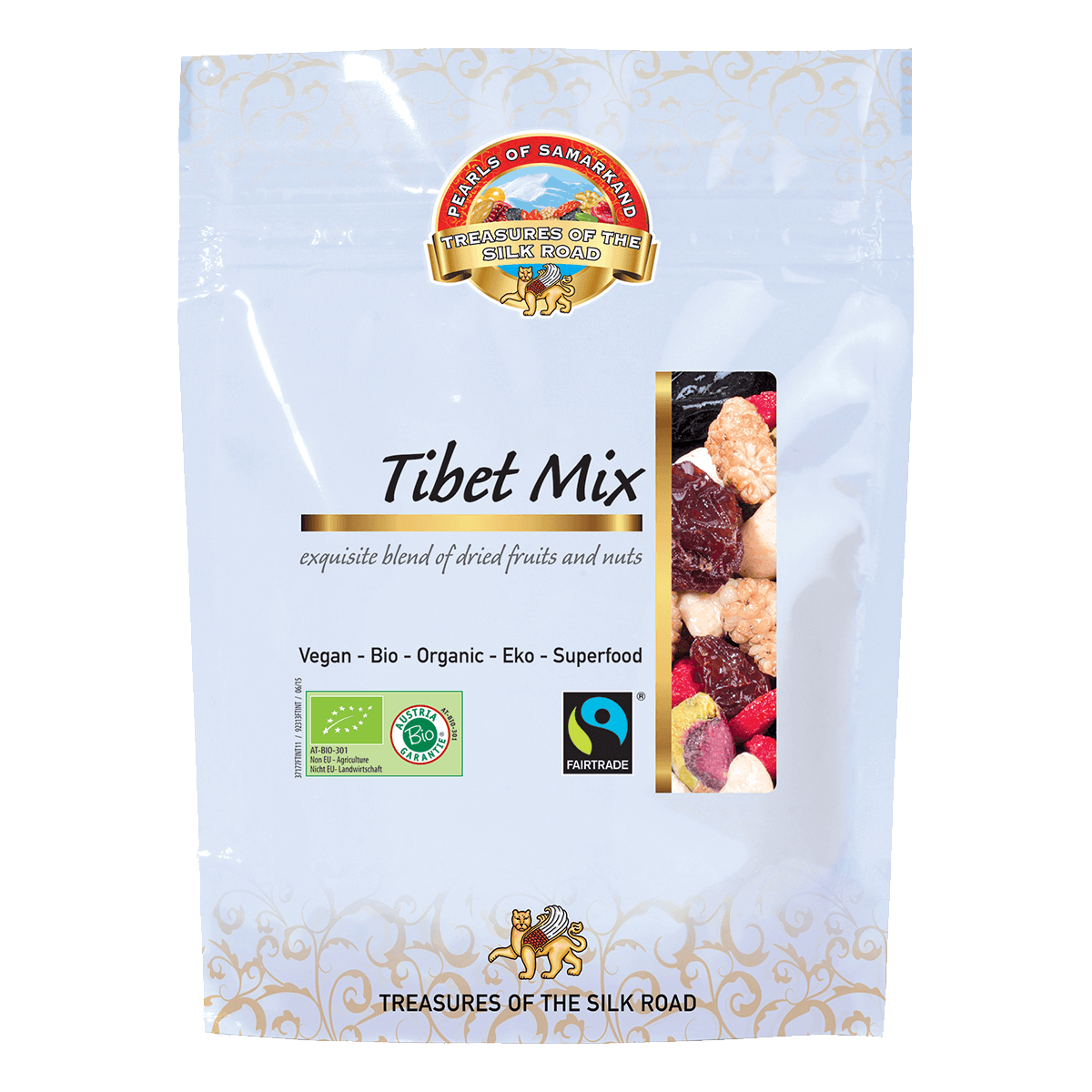 Quantity
Unit price
To

2

CHF 5.40*

From

3

CHF 5.13*
Available, delivery time: 1-4 days
Bio Tibet Mix - nach uralten Lehren tibetischer Mönche
Tibet ist die mystische, lange Zeit verschlossene Heimat vieler alter Lehren, die alle das Ziel der Selbstfindung und Einheit mit sich selbst haben.
Produktbeschreibung
Eine ausgewogene Ernährung, die alle Komponenten berücksichtigt, war und ist ein wesentlicher Bestandteil der tibetischen Lehren. Unser Pearls of Samarkand Tibet Mix wurde nach uralten Lehren tibetischer Mönche entwickelt und von den Pearls of Samarkand Experten noch verfeinert.
Der Tibet Mix bietet eine optimale Kombination zwischen vielen verschiedenen Trockenfrüchten und Beeren wie Maulbeeren, sehr verschiedene exklusive Rosinensorten und Gojibeeren. Cashewkerne und Pistazien runden den süßen Geschmack ab und verleihen dieser Mischung eine leichte nussige Note. Die kleinen Berberitzen bilden die Balance der Mischung, denn ihr säuerlicher Geschmack legt sich ausgleichend um unsere Geschmacksrezeptoren.
Ein Snack der schmeckt und vor allem nachhaltig ist, denn 55% der Zutaten sind Fairtrade zertifiziert.
Herkunft und Herstellung
Alle Zutaten sind in sehr hoher Bio-Qualität und überall dort, wo es Fairtrade-Produkte gibt, sind sie selbstverständlich auch Fairtrade zertifiziert.
Fast alle Bio Fairtrade Zutaten stammen von drei Fairtrade Bauerngruppen in Usbekistan. Die Bauern gehören zu einer großen Fairtrade Gemeinschaft, welche sich aus 3 Gruppen zusammensetzt, Dustkul Bogi, Turkiston Gulba und Turob Bobo. Zu ihnen gehören rund 1000 einzelne Bauern, samt ihren Familien. Dank der Zusammenarbeit mit Fairtrade können die Bauern ihren Familien ein gesichertes Einkommen und ihren Kindern eine neue Perspektive bieten.
Die Bio Fairtrade Cashews stammen aus Burkina Faso.
Alle Zutaten werden in Österreich erneut kontrolliert, zusammengestellt und schonend gemischt, sodass kaum Bruchstücke entstehen.
Getrocknete Bio Zutaten: weisse Maulbeeren, Cashew Bruch°, Goji Beeren, Sultaninen°, Black Beauty Rosinen°, grüne Khorog Rosinen°, wilde grüne Pistazien mit Haut, braune Manuka Rosinen mit Kernen°, Berberitzen. °FAIRTRADE-zertifiziert und von Fairtrade-Produzenten angebaut. Gesamt-Fairtrade-Anteil: 55%.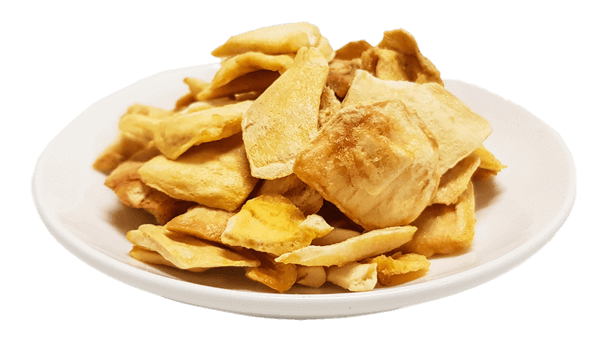 Jackfruit chips organic freeze-dried
Knusprige Bio Jackfrucht Chips, gefriergetrocknet Produktbeschreibung Diese knusprigen Bio Jackfrucht Chips werden aus reifen, aromatisch-süssen und handgeschälten Jackfruits sorgfältig in liebevoller Handarbeit hergestellt. Die Früchte stammen aus Indien, wo sie direkt verarbeitet werden. Ein leckerer Snack für Zwischendurch aus 100% Jackfrucht. Sie eignen sich auch als Topping fürs Müesli oder Desserts. Eigenschaften: Bio vegan glutenfrei ungesüsst (enthält von Natur aus Zucker) geschmackvoll Ein Beutel enthält 35g. Nach dem Öffnen immer luftdicht verschliessen und vor Flüssigkeit schützen. Sonst verkleben die einzelnen Stücke. Durchschnittliche Nährwerte pro 100g Energiewert 1148kJ / 271kcal Fett 1g - davon gesättigte Fettsäuren 0.5g Kohlenhydrate 60g - davon Zucker 59g Ballaststoffe 5g Eiweiss 3g Salz 0.075g
Content: 35 Gramm (CHF 13.14* / 100 Gramm)