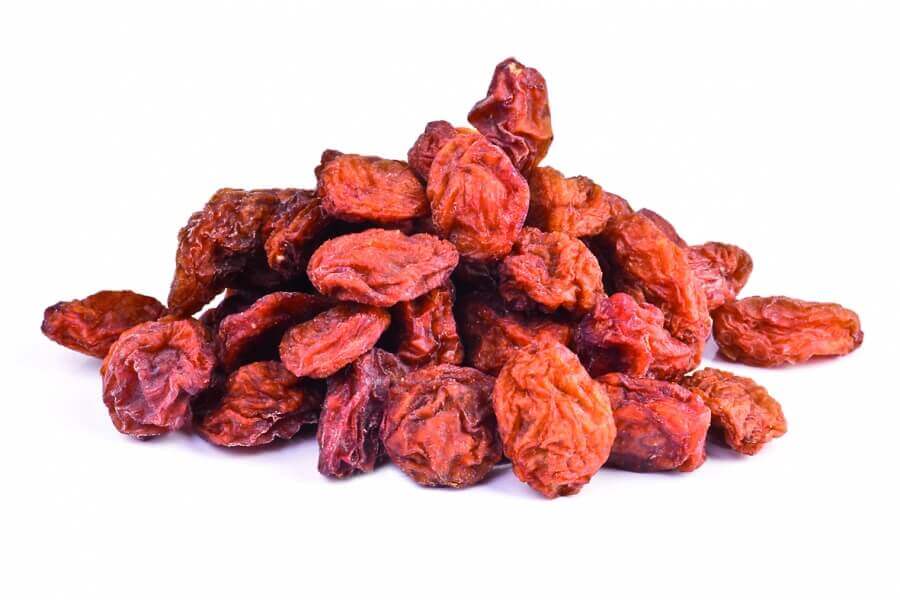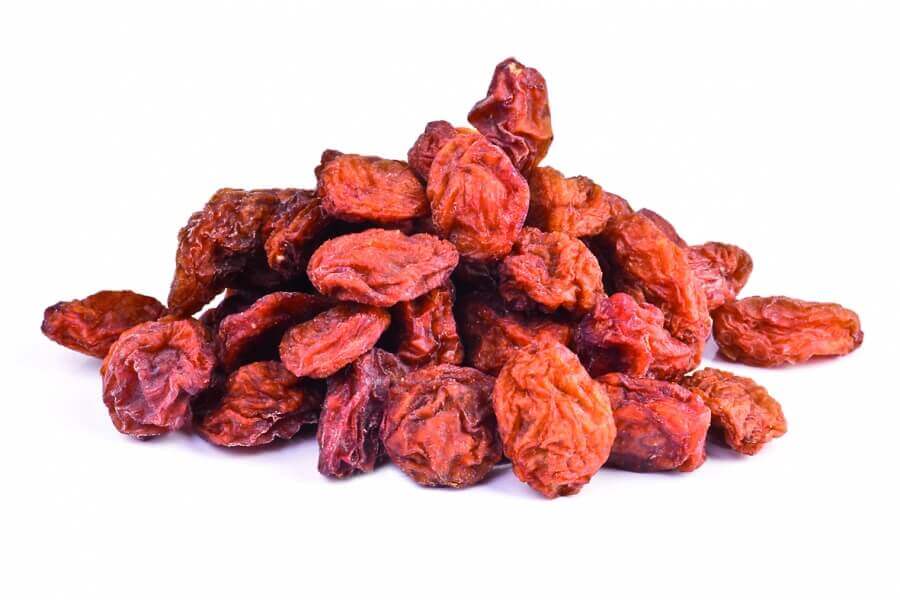 CHF 3.90*
Content:
300 Gramm
(CHF 1.30* / 100 Gramm)
Organic Manucca raisins - the super raisins
Product description
Our organic brown manucca raisins with seeds are:
100% pure nature, i.e. unoiled, without artificial additives, without preservatives, without sweeteners, without coloring
100% organic
nice big raisins with seeds
contain antioxidants and omega-3 fatty acids
gently sun/solar dried -> raw food quality
Dried raisins contain the same nutrients as fresh grapes, only in a more concentrated form. Raisins contain a very high antioxidant capacity of up to 10450 µmol TE (ORAC value = Oxygen Radical Absorption Capacit). Antioxidants prevent unwanted oxidation in our body. They are therefore also referred to as radial catchers. Through their participation, the aging process of the cells is slowed down.
Equally interesting are the amino acids it contains, above all valine, threonine, lysine, leucine and histidine. The kernels it contains are also very interesting because they contain vitamins A and E and polyunsaturated fatty acids such as linoleic acid (omega 6).
Properties Manucca raisins
The brown Manucca raisin owes its name to the South Sea myrtle or better known as Manucca. The legendary Manucca honey is made from the flowers with the help of the bees. What do Manucca raisins and Manucca honey have in common? The honey-golden brown color and a fantastic and unique taste.
Our organic Manucca raisins are particularly large brown raisins that contain 1-2 seeds per raisin. The flesh is soft and slightly crunchy due to the core. The taste is intensely sweet and fruity, the stone gives the raisins a slightly bitter note.
Origin and manufacture
The organic Manucca raisins come exclusively from Uzbekistan. The area is largely organic and FAIRTRADE certified and is farmed by the FAIRTRADE farmers who live there. The farmers belong to a large Fairtrade community made up of 3 groups, Dustkul Bogi, Turkiston Gulba and Turob Bobo. They include around 1,000 individual farmers, along with their families. Thanks to the cooperation with Fairtrade, the farmers can offer their families a secure income and their children a new perspective.
When fully ripe, the grapes are harvested by hand, piece by piece, and sorted by hand on the same day. The grapes are then gently dried with the help of the sun. The drying process used is a very environmentally friendly solar drying method that is extremely gentle on the product. For the production of 100g organic Manucca raisins you need around 700g fresh organic grapes, i.e. a ratio of 1:7.
Nutritional values of dried Manucca raisins per 100g
Energy value 1279 kJ / 302 kcal
Fat 0.6g
- of which saturated fatty acids 0.2g
carbohydrates 69g
- of which sugar 63g
dietary fiber 5.2g
Protein 2.5g
Salt 0.05g
Phosphorus 110mg (16%)*
Iron 2.3mg (16%)*
*according to nutrient reference values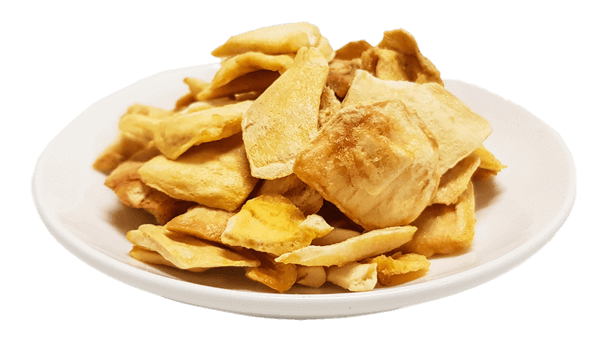 Jackfruit chips organic freeze-dried
Knusprige Bio Jackfrucht Chips, gefriergetrocknet Produktbeschreibung Diese knusprigen Bio Jackfrucht Chips werden aus reifen, aromatisch-süssen und handgeschälten Jackfruits sorgfältig in liebevoller Handarbeit hergestellt. Die Früchte stammen aus Indien, wo sie direkt verarbeitet werden. Ein leckerer Snack für Zwischendurch aus 100% Jackfrucht. Sie eignen sich auch als Topping fürs Müesli oder Desserts. Eigenschaften: Bio vegan glutenfrei ungesüsst (enthält von Natur aus Zucker) geschmackvoll Ein Beutel enthält 35g. Nach dem Öffnen immer luftdicht verschliessen und vor Flüssigkeit schützen. Sonst verkleben die einzelnen Stücke. Durchschnittliche Nährwerte pro 100g Energiewert 1148kJ / 271kcal Fett 1g - davon gesättigte Fettsäuren 0.5g Kohlenhydrate 60g - davon Zucker 59g Ballaststoffe 5g Eiweiss 3g Salz 0.075g
Content: 35 Gramm (CHF 13.14* / 100 Gramm)
Sauerkirschenmüesli Rohkost
Sauerkirschenmüesli in Rohkostqualität und ohne Süssungsmittel Danny Schmid vom Rohkost Hüsli in Bülach stellt dieses komplett ungesüsste Sauerkirschenmüesli in Handarbeit selbst her. Nebst diesem führen wir auch ihr Frühstücksmüesli und Aprikosenmüesli im Sortiment. Da das Sauerkirschenmüesli aus frischen Bio-Zutaten und ohne Konservierungsstoffe in Rohkostqualität hergestellt wird, hat es lediglich ein Mindesthaltbarkeitsdatum von 3-6 Monaten. Warum wir dieses Sauerkirschenmüesli lieben Der knusprige Biss zusammen mit dem nussigen (Buchweizen und Mandeln) sowie fruchtigen Aroma (Sauerkirschen) bilden eine sehr leckere Kombination. Die sehr dezente Süsse stammt allein von den Apfelstücken und dem Apfelmus. Es wird kein zusätzliches Süssungsmittel verwendet! Die Stücke sind für ein Müesli untypisch gross, eignen sich dadurch jedoch nicht nur zum Frühstück, sondern auch als feiner Snack für Zwischendurch.  Sauerkirschenmüesli vom Rohkost Hüsli Um die Enzyme und Vitamine zu steigern, lässt Danny die Mandeln während 12 Stunden, den Buchweizen währen 2 Tagen ankeimen. Sie benutzt aus Überzeugung ausschliesslich Bio Zutaten. Da sie als kleine Firma jedoch nicht Bio-zertifziert ist, wird dieses Sauerkirschenmüesli nicht als Bio verkauft. Zutaten Sauerkirschenmüesli Buchweizen (angekeimt) Mandeln (angekeimt) schwarzer Sesam Chia-Samen Apfelwürfel getrocknete Sauerkirschen Zitronen Orangen Apfelmus Goldleinsamen Salz Alle Zutaten sind Rohkost.
Content: 200 Gramm (CHF 6.55* / 100 Gramm)