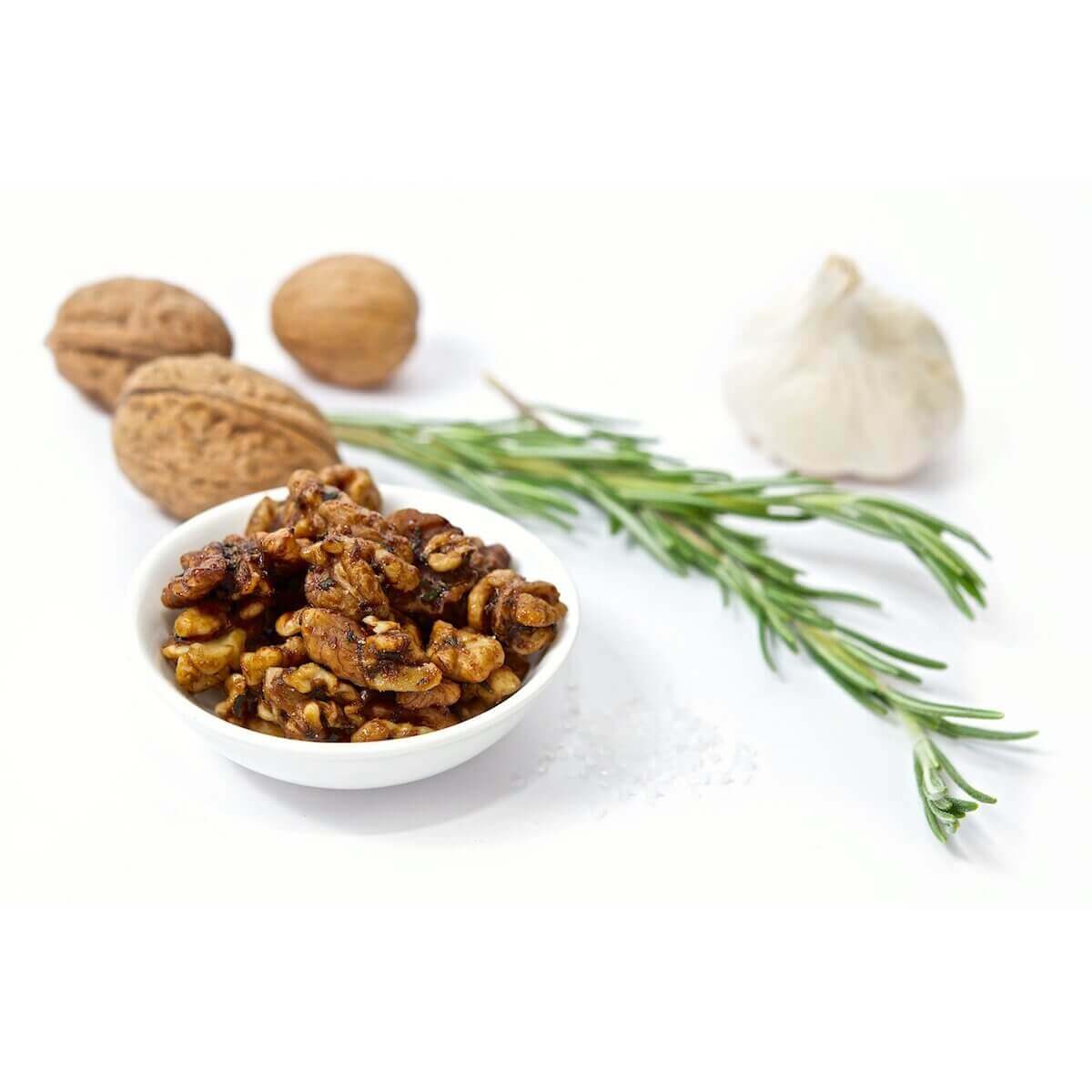 Available, delivery time: 1-4 days
Angekeimte und marinierte Baumnüsse 
Naturkostbar lässt die wild gesammelten Schweizer Baumnüsse ankeimen und aromatisiert sie nach der schonenden Trocknung (unter 40°C) mit einer herrlichen Rosmarin-Tamari-Marinade - mhmm, lecker Schmecker!
Herkunft und Verarbeitung
Die Baumnüsse stammen von alten, majestätischen Baumnussbäumen aus dem Schweizer Seeland. Lokale Bauern sammeln die wildgewachsenen Nüsse von Hand ein. Ein Schweizer Nussknacker befreit sie vorsichtig von der harten Schale.
Naturkostbar lässt die die Baumnüsse ankeimen, damit sie ihr volles Nährstoffpotential entfalten können. Der zweite wichtige Verarbeitungsschritt erfolgt durch das Marinieren. Die Marinade enthält Nama Bio Tamari Sojasauce, Rosmarin, Kokosblütenzucker, Salz und Knoblauch.
Natürlicher Genuss
Das Resultat sind knackige, würzig-süsse Baumnüsse. Sie schmecken ausgewogen nussig und verführen mit sanftem Rosmarin-Aroma.
✓ Schweizer Wildsammlungen
✓ Bio, vegan und Rohkostqualität
✓ Angekeimt
✓ Glutenfrei
Verwendung marinierte Baumnüsse
Die leckeren Rosmarin-Baumnüsse eignen sich hervorragend zu jedem Apéro oder als Topping für Salate wie auch als Brain-Food fürs Büro.
Zutaten
Baumnüsse**, Tamari*, Kokosblütenzucker*, Baumnussöl, Knoblauchpulver*, Steinsalz.
*aus biologischer Landwirtschaft, **angekeimt
Nährwertangaben marinierte Baumnüsse
Energie / Nährstoff pro 100g
g/mg/μg
%*1
*1 Referenzmenge/Tagesdosis für einen durchschnittlichen Erwachsenen (8400kJ/2000kcal)
Energie
2792kJ (677kcal)
33%
Fett
62.9g
90%
davon gesättigte Fettsäuren
5.63g
28%
Kohlenhydrate
11.9g
5%
davon Zucker
5.2g
6%
Eiweiss
14.3g
29%
Salz
1.25g
21%
Cedarnuts (Siberian Pine nuts)
Cedar Nuts – A Nature's Real Treasure For centuries native Siberians have always appreciated the Siberian cedar tree (pinus sibirica) as a source of valuable wood, natural remedies and tasty, nutritious kernels in the pine cones of the tree. Cedar nuts (also called Siberian pine nuts) contain about 55% valuable unsaturated fatty acids, especially linoleic and alpha-linolenic acid as well as the rare pinol-/pinolenic acid. They are rich in tocopherols (vitamin E) as powerful antioxidants and high-quality proteins (about 17%). Furthermore, cedar nuts contain many minerals (most notably magnesium, potassium, phosphorus), trace elements (copper, zinc, manganese), vitamins (K and B) and flavonoids. More than 200 years ago, the German natural scientist Peter Simon Pallas wrote about the healing effects of cedar nuts. They reduce fatigue, boost energy, rejuvenate the body and increase potency. Cedar nuts taste like pine nuts, but slightly sweeter. Our cedar nuts are not heat- treated in contrast to almost all other pine nuts available in shops. Why we love Cedar Nuts The Siberian cedar, is a real treasure of Siberian nature, forming vast areas of pristine forests throughout Northern Russia. These huge, magnificent trees typically reach 40 meters tall. The trees grow slowly and the first nut-bearing cones only appear once the trees are about 30 years old. Siberian pines are some of the longest-living trees ranging from 300 to 800 years old! Throughout its long life span, the evergreen cedar captures the rays of cosmic light energy and stores it in its millions of needles.  Already thousands of years ago Siberian people appreciated the properties of the cedar tree, which they called "the Eternal". They used the brushwood  to prepare a healthy drink, the resin for healing wounds and ulcers, and the cedar nut and its oil were taken to help cure many diseases and overvcome the long, severe winters of Siberia. Nowaday scientists in Russia and around the world have been exploring the properties of the cedar nuts and its oil. Research showed clear effects on gastritis, heartburn and dysplasia (cancer prestages) in stomach and esophagus, improved gall bladder function, cholesterol-lowering effects and positive impact on blood sugar levels. Siberian pine nuts and oil are also beneficial for the care and regeneration of the skin, the oil is used in skin diseases such as eczema. SamaraNatura Cedar Nuts Virtually all pine kernels sold in the shops are heat-treated to preserve them. Our cedar nuts from Mongolia are raw and a bit sweeter and lighter and fantastic just about any way you choose to use them. We recommend to  keep them refrigerated. Use Cedar nuts taste great as a snack by its own. You can add them to trail mixes with goji berries and cacao nibs or use them on your salads, in mayonnaises, creams and milks. They will add a little elegance and sophistication to your cuisine.
Content: 250 Gramm (CHF 7.18* / 100 Gramm)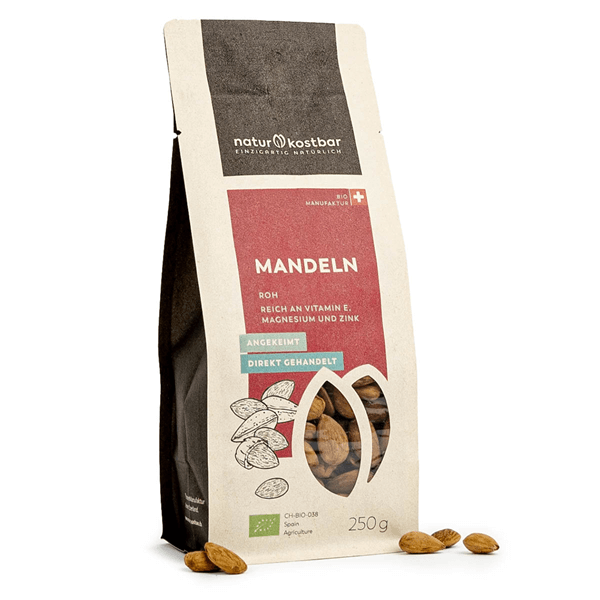 Mandeln angekeimt Bio Naturkostbar
Mandeln angekeimt Bio - doppelter Gehalt an Magnesium und Kalzium Die Bio Mandeln aus Spanien werden in der Naturkostbar Manufaktur über mehrere Stundne eingeweicht und angekeimt. Danach werden sie für 24 Stunden bei maximal 42° C getrocknet. Durch das Ankeimen wird die in den Mandeln vorhandene Phytinsäure neutralisiert und die Nährstoffdichte deutlich erhöht. Zudem können die Mandeln besser verdaut werden, was auch die Nährstoffaufnahme verbessert. Eine Analyse des Magnesium- und Kalzium-Gehalts von rohen und angekeimten Mandeln zeigt deutliche Unterschiede:      Magnesium mg/kg  Kalzium mg/kg  Mandeln nicht angekeimt  1140  1430  Mandeln angekeimt*  2470  3320 *Messung durch Wessling Group AG im Auftrag von Naturkostbar. Verwendung Mandeln angekeimt Die angekeimten Mandeln eignen sich wie normale Mandeln als Snack pur oder mit Trockenfrüchten und Kakaosplitter zu Studentenfutter gemischt. Zusatzinformationen Inhalt: Beutel mit 250g. Achtung: Kann Schalenteile enthalten. Herkunft und Herstellung: Bio Mandeln aus Spanien, angekeimt in der Naturkostbar Manufaktur in Uetendorf bei Thun. Bio-Zertifikat: CH-BIO-086 Nährwerte angekeimte Mandeln Nährwerte Øpro 100g/100ml%11 Referenzmenge für einen durchschnittlichen Erwachsenen (8400kJ/2000kcal) Energie 2508kJ (607kcal) 30% Fett 53g 76% davon gesättigte Fettsäuren 5.08g 25% davon einfach ungesättigte Fettsäuren 36g 240% davon mehrfach ungesättigte Fettsäuren 11.9g - Kohlenhydrate 3.9g 2% davon Zucker 3.5g 4% Ballaststoffe 12.6g 25% Eiweiss 22.3g 45% Salz 0.03g 1% B-Carotin (Provitamin A) - - Vitamin A - - Vitamin B1 0.3mg 27% Vitamin B2 0.4mg 29% Vitamin B3 4.2mg 26% Vitamin B6 0.1mg 7% Vitamin B12 - - Vitamin C - - Vitamin D - - Vitamin E 12mg 100% Vitamin K - - Biotin 10µg 20% Calcium 270mg 34% Chlorid 40mg 5% Chrom - - Eisen 4.8mg 34% Fluorid - - Folsäure/Folacin 48µg 24% Jod 2µg 1% Kalium 760mg 38% Kupfer - - Magnesium 240mg 64% Mangan - - Molybdän - - Pantothensäure 0.5mg 8% Phosphor 510mg 73% Selen - - Zink 6mg 60%
Content: 250 Gramm (CHF 6.00* / 100 Gramm)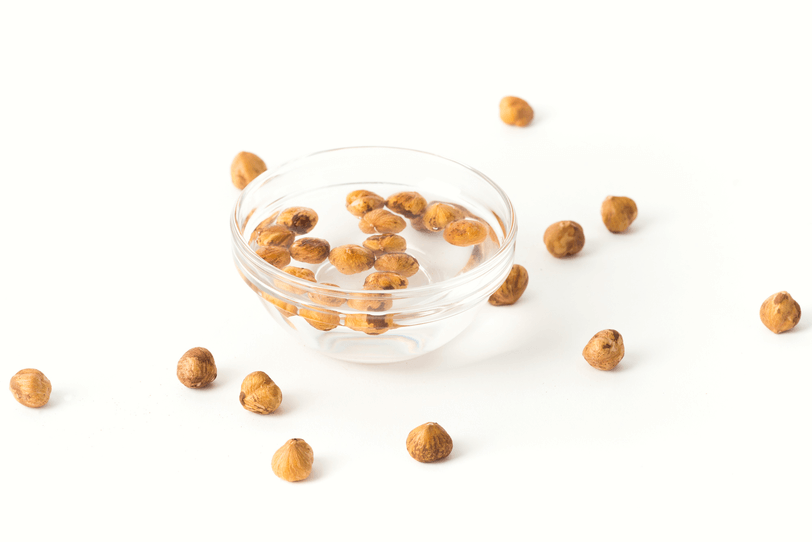 Haselnüsse Piemont angekeimt Naturkostbar Bio
Haselnüsse angekeimt Bio - doppelter Gehalt an Magnesium und Kalzium Die Bio Haselnüsse aus dem Piemont werden in der Naturkostbar Manufaktur über mehrere Stunden eingeweicht und angekeimt. Danach werden sie für 24 Stunden bei maximal 42° C getrocknet. Durch das Ankeimen wird die in den Haselnüssen vorhandene Phytinsäure neutralisiert und die Nährstoffdichte deutlich erhöht. Zudem können die Haselnüsse besser verdaut werden, was auch die Nährstoffaufnahme verbessert. Verwendung Haselnüsse angekeimt Die angekeimten Haselnüsse eignen sich wie normale Haselnüsse als Snack pur oder mit Trockenfrüchten und Kakaobohnen zu einem leckeren Studentenfutter gemischt. Zusatzinformationen Inhalt: Beutel mit 250g. Achtung: Kann Schalenteile enthalten. Herkunft und Herstellung: Bio Haselnüsse aus dem Piemont (Italien), angekeimt in der Naturkostbar Manufaktur in Uetendorf bei Thun. Bio-Zertifikat: CH-BIO-086 Nährwerte angekeimte Haselnüsse Nährwerte Øpro 100g/100ml%11 Referenzmenge für einen durchschnittlichen Erwachsenen (8400kJ/2000kcal) Energie 2650kJ (643kcal) 32% Fett 59.5g 85% davon gesättigte Fettsäuren 4.2g 21% davon einfach ungesättigte Fettsäuren 46.6g 311% davon mehrfach ungesättigte Fettsäuren 6.5g - Kohlenhydrate 6.9g 3% davon Zucker 4.3g 5% Ballaststoffe 9.7g 19% Eiweiss 15.2g 30% Salz 0.01g 0% B-Carotin (Provitamin A) - - Vitamin A - - Vitamin B1 0.27mg 25% Vitamin B2 0.1mg 7% Vitamin B3 1.3mg 8% Vitamin B6 0.5mg 36% Vitamin B12 - - Vitamin C - - Vitamin D - - Vitamin E 27mg 225% Vitamin K - - Biotin - - Calcium 160mg 20% Chlorid 11mg 1% Chrom - - Eisen 3.6mg 26% Fluorid - - Folsäure/Folacin 41µg 21% Jod 6.5µg 4% Kalium 720mg 36% Kupfer - - Magnesium 160mg 43% Mangan - - Molybdän - - Pantothensäure 1.2mg 20% Phosphor 320mg 46% Selen - - Zink 2.9mg 29%  
Content: 250 Gramm (CHF 7.96* / 100 Gramm)