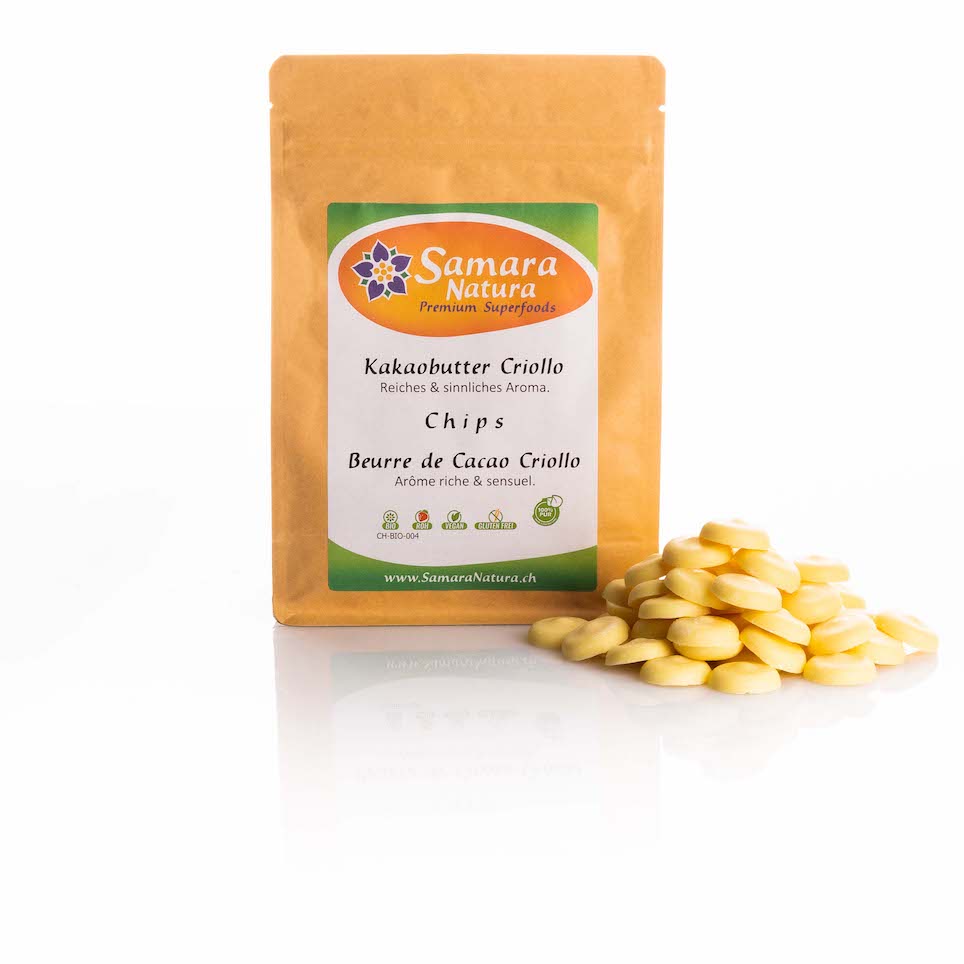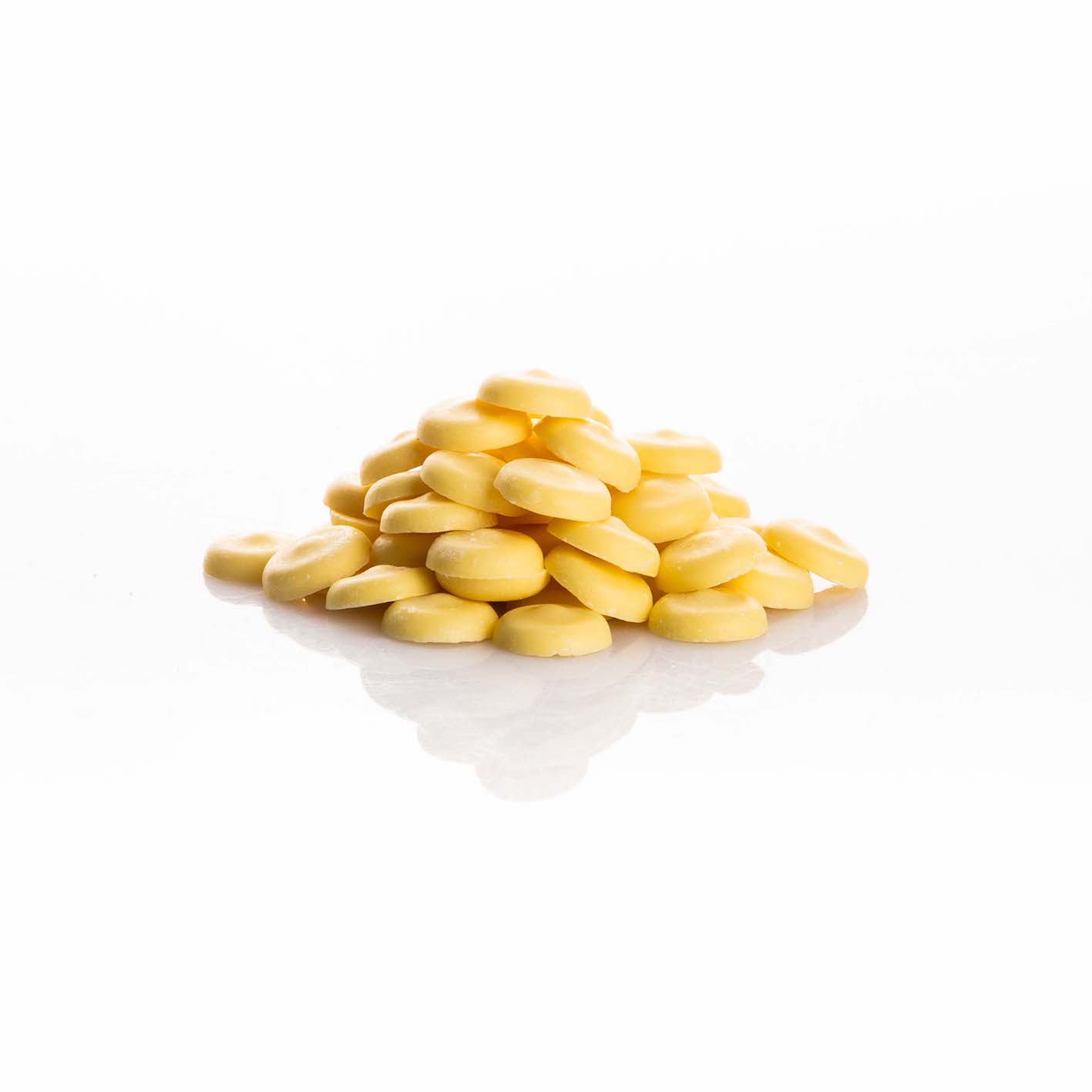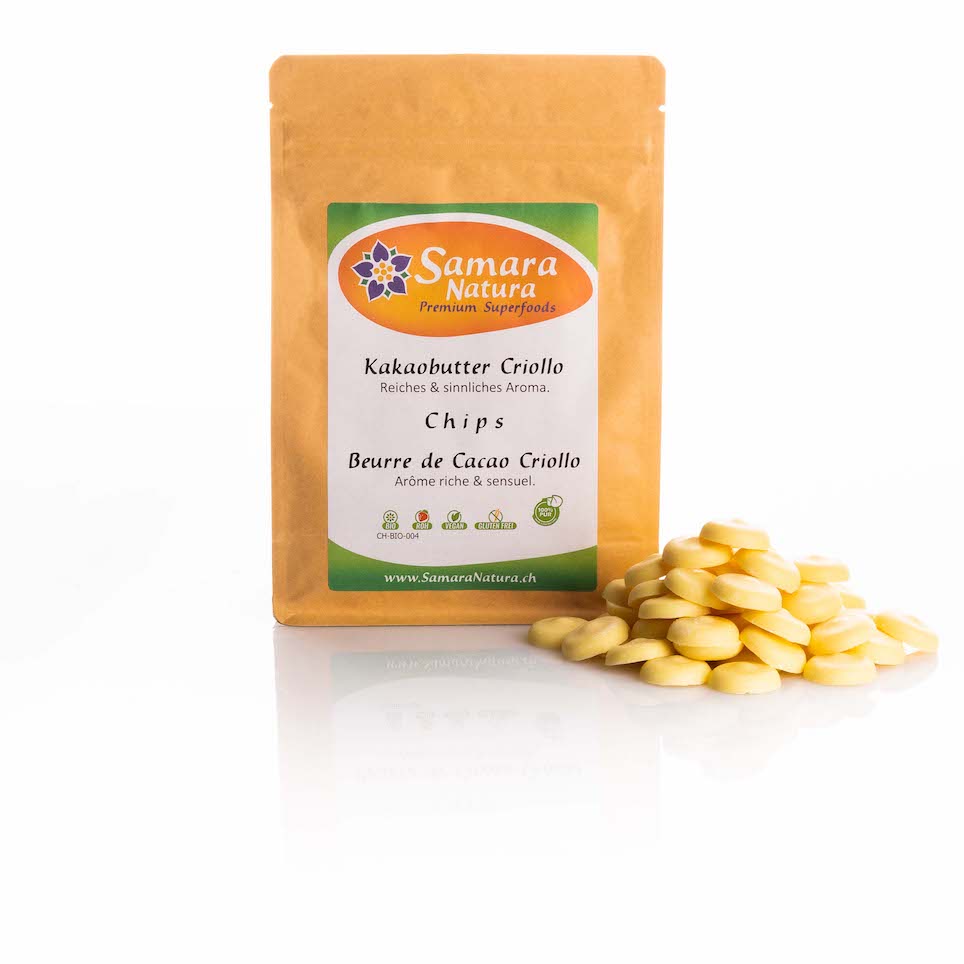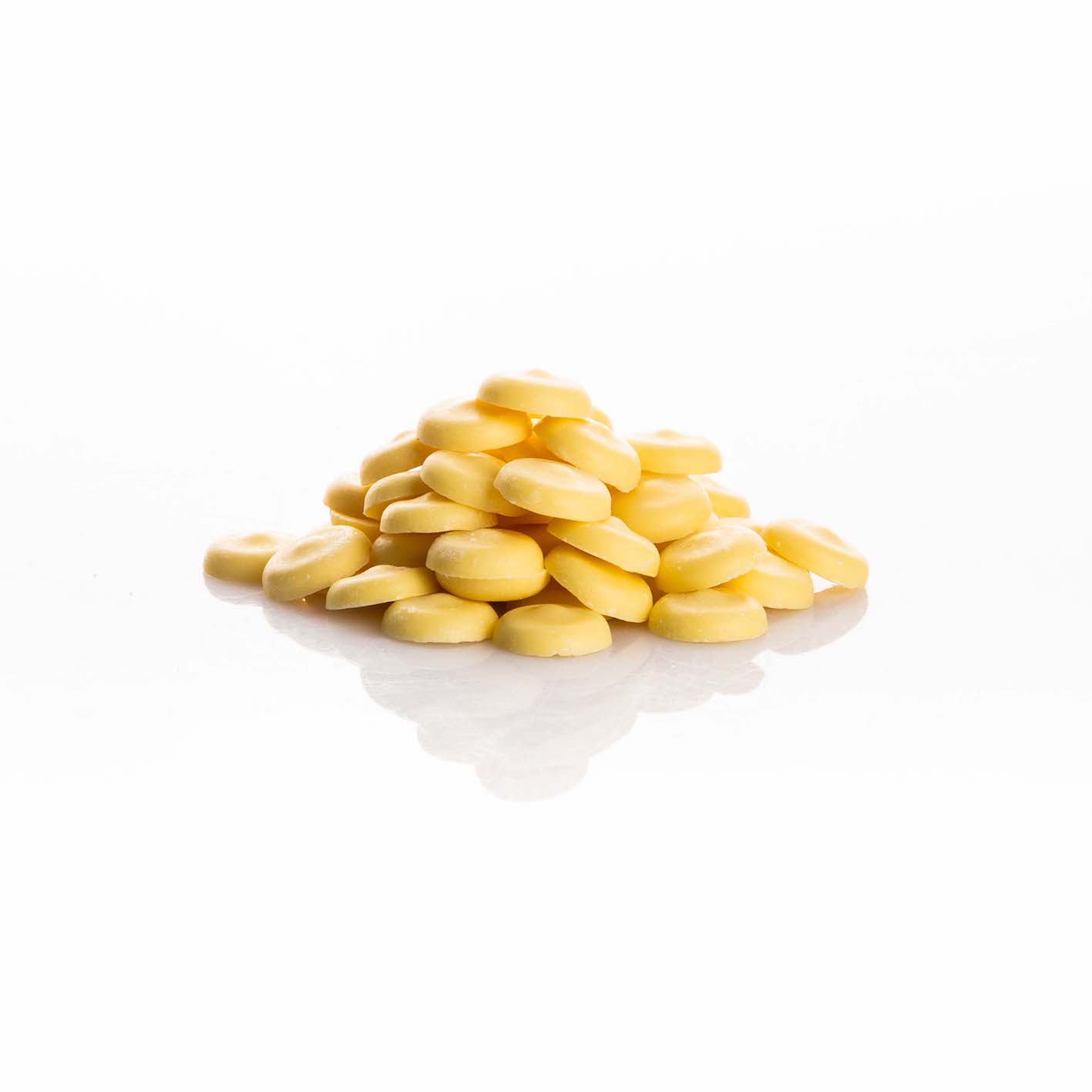 Quantity
Unit price
Base price
To

2

CHF 18.00*

CHF 7.20* / 100 Gramm
From

3

CHF 17.10*

CHF 6.84* / 100 Gramm
Available, delivery time: 1-4 days
Organic Cacao butter Criollo Chips
Why buy cacao butter chips?
Cacao butter is the solid form of the pure oil from the cocoa bean. The cocoa bean is an amazing food given to us by Mother Nature. It was viewed by the Aztecs as a gift from God and was used not only as an offering but also as a means of payment. It is estimated that raw cacao contains more than 300 substances and is one of the foods with the most antioxidants. It enriches many dishes with a wonderful, sensual chocolate aroma and is also ideal for skin care.
What makes our cacao butter Criollo Chips special?
Our cacao butter is 100% pure and raw food quality. Grown in Peru. No chemicals are used in cultivation or processing. This cacao butter is the pure, golden oil from cacao beans. Our cacao butter is made from the particularly fine and rare fine cacao variety Criollo. Fine cacao varieties only make up 5-10% of global cacao production. They grow under similar, often almost natural conditions, as they cannot tolerate direct sun and thrive next to other, high rainforest trees. Forestero industrial cacao, on the other hand, is usually grown in monoculture plantations. In contrast to conventional products, our cacao butter is never heated above 37°C and thus has the same quality as raw butter.
Use of cacao butter Criollo chips in dishes / for recipes
As a high-quality fat, cacao butter enriches smoothies, desserts and ice cream in particular with a wonderful, sensual chocolate aroma. Ideal in combination with cacao paste or cacao powder for fine chocolate creations. Raw cacao butter has a wonderful, delicate chocolate aroma, is versatile and melts in any type of recipe at approx. 35°C.
Use of cacao butter Criollo chips for skin care
Cacao butter is also suitable for external use as a valuable skin care product. Due to its high content of antioxidants and skin-protecting substances, cacao butter is a natural "fountain of youth" for the skin. With a melting point just below body temperature, you can simply slide a piece of cacao butter over the skin without the need for any additives. Cacao butter nourishes, is well absorbed and gives dry skin a long-lasting, supple feeling. And it has a sensual, aphrodisiac scent. A truly sensual oil with a gently soft structure and a mildly floral citrus aroma. Unfortunately, cacao butter can hardly develop its precious effect in most conventional cosmetic products. This is due to the small amount, the processing at too high temperatures and the addition of chemical additives in skin care products. In contrast to many, even expensive, cosmetic products that contain cacao butter, our raw cacao butter has been processed or mixed without synthetic and harmful chemicals. This way, raw cacao butter can fully develop its precious effect on the natural beauty of our skin.
Info: Only chips on offer
Due to the demand, we only offer Criollo cacao butter as chips. These chips (also called coins, drops) are of the same quality as the fragments previously offered and are also made from Criollo cacao beans from Peru. The butter chips are easier to use / dose because they are always the same size.
Size variants
We offer cacao butter Criollo Chips as standard in 250g and 500g bags. Do you need large quantities? We are happy to fill 5kg or 10kg bags on request.
Nutritional values ​​organic cacao butter Criollo chips per 100g
Energy value: 3766 kJ / 900 kcal
All information is subject to the usual fluctuations for natural products.