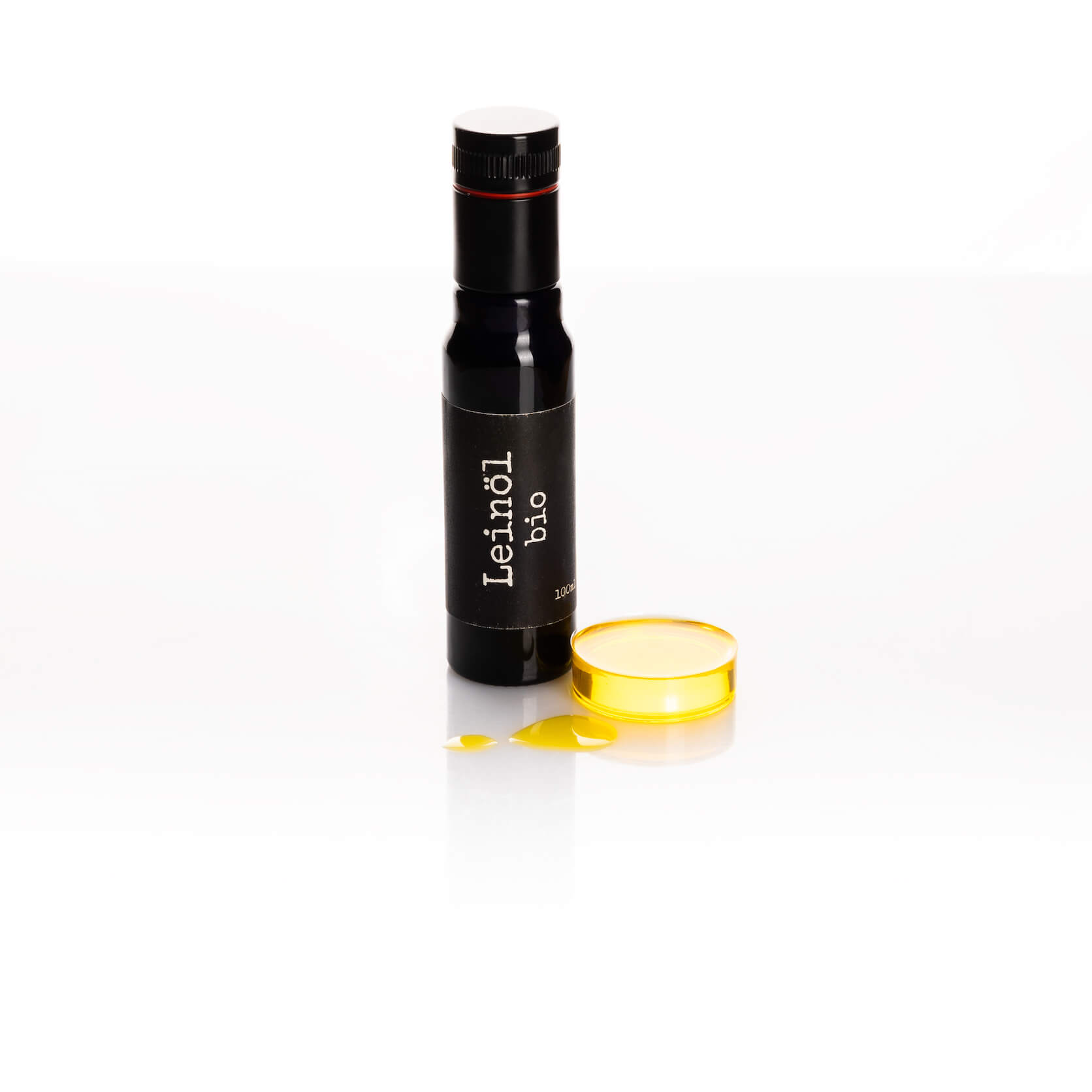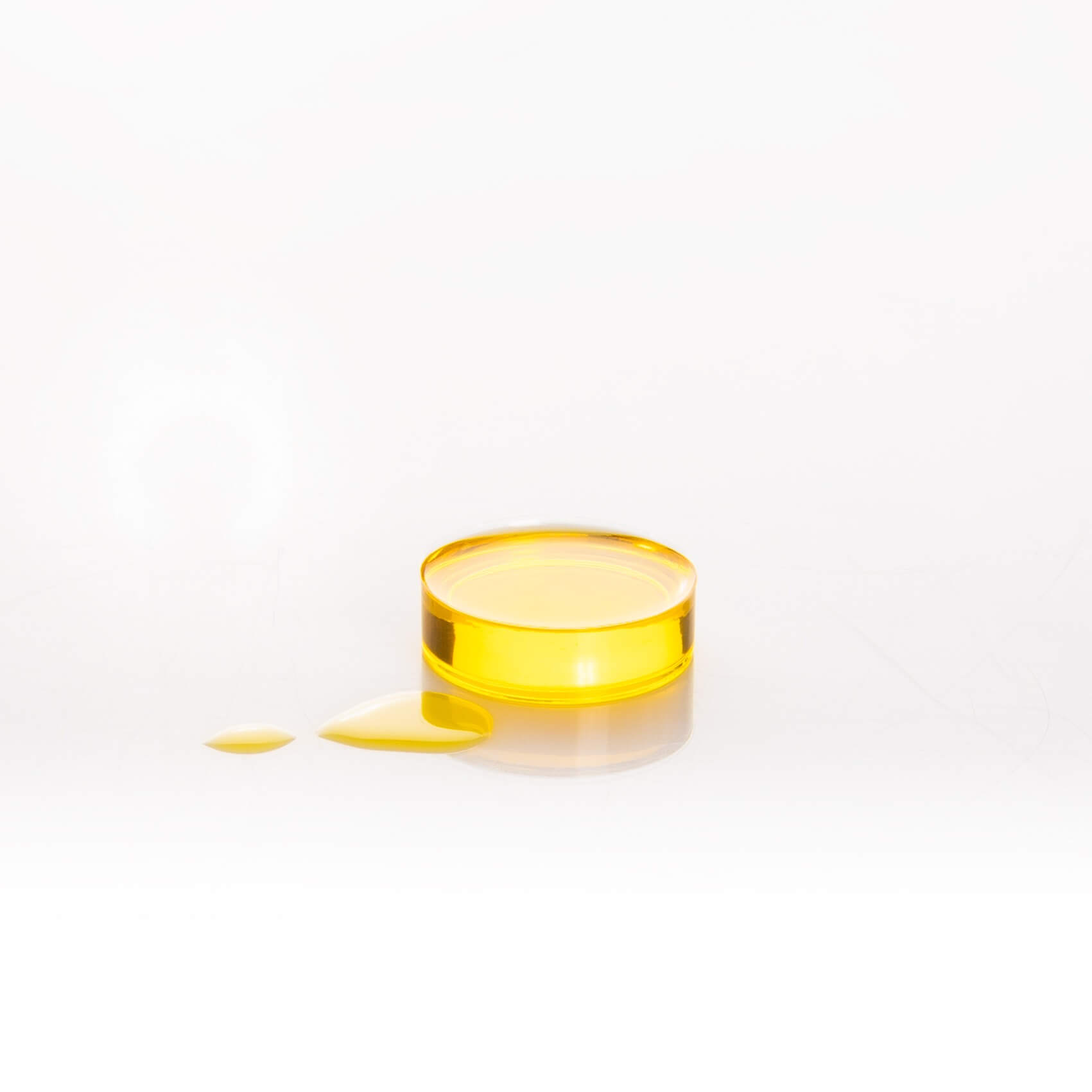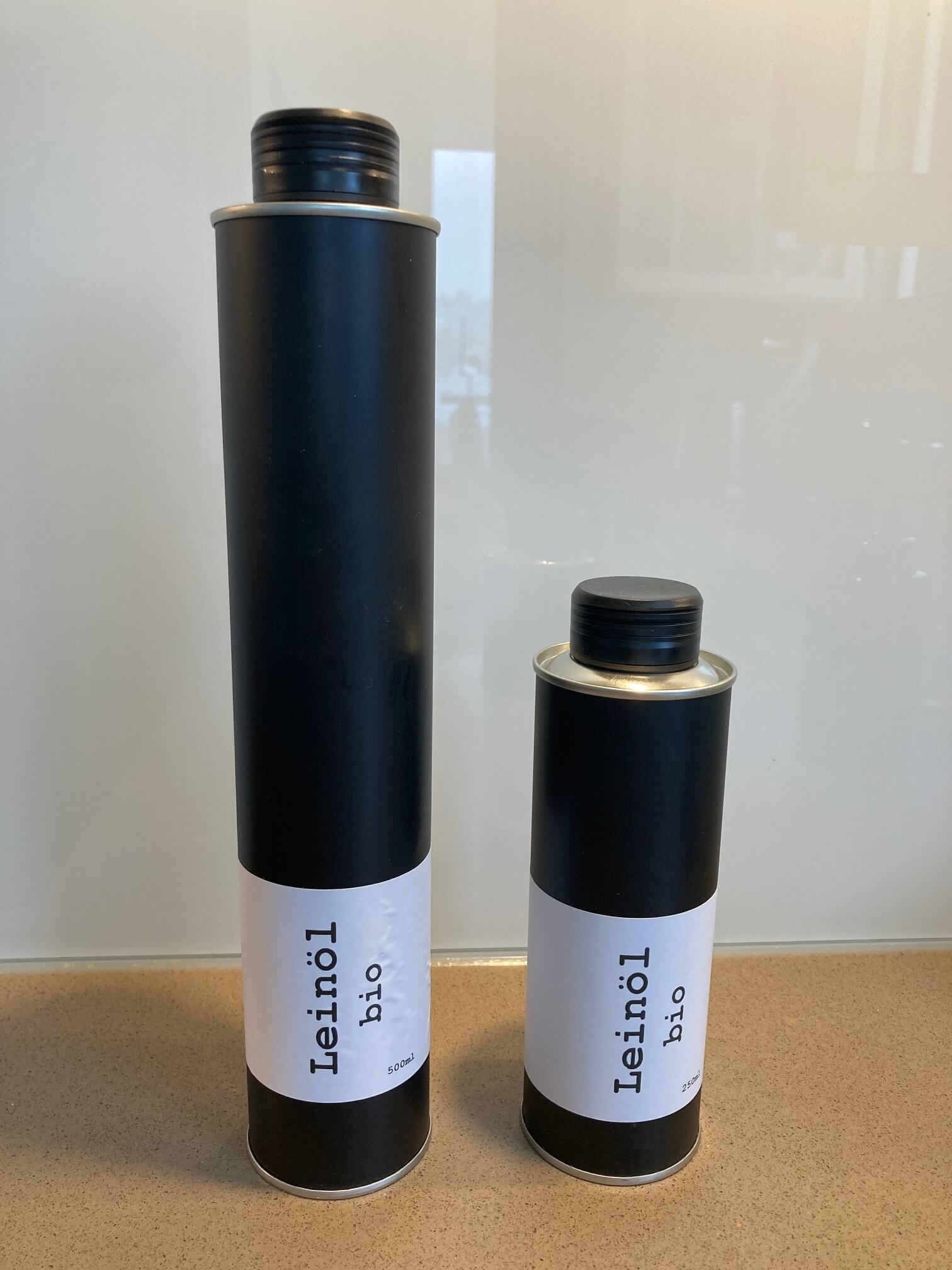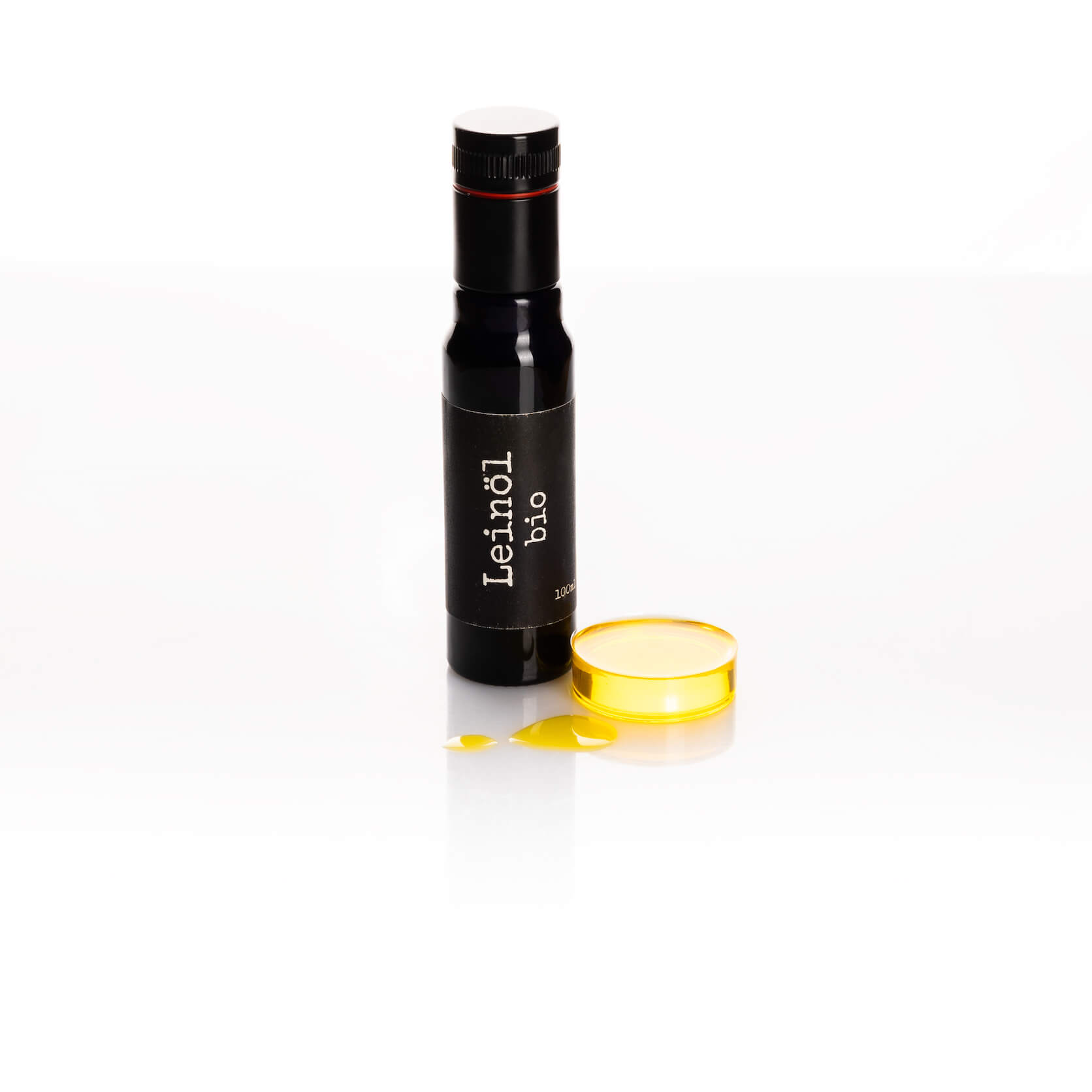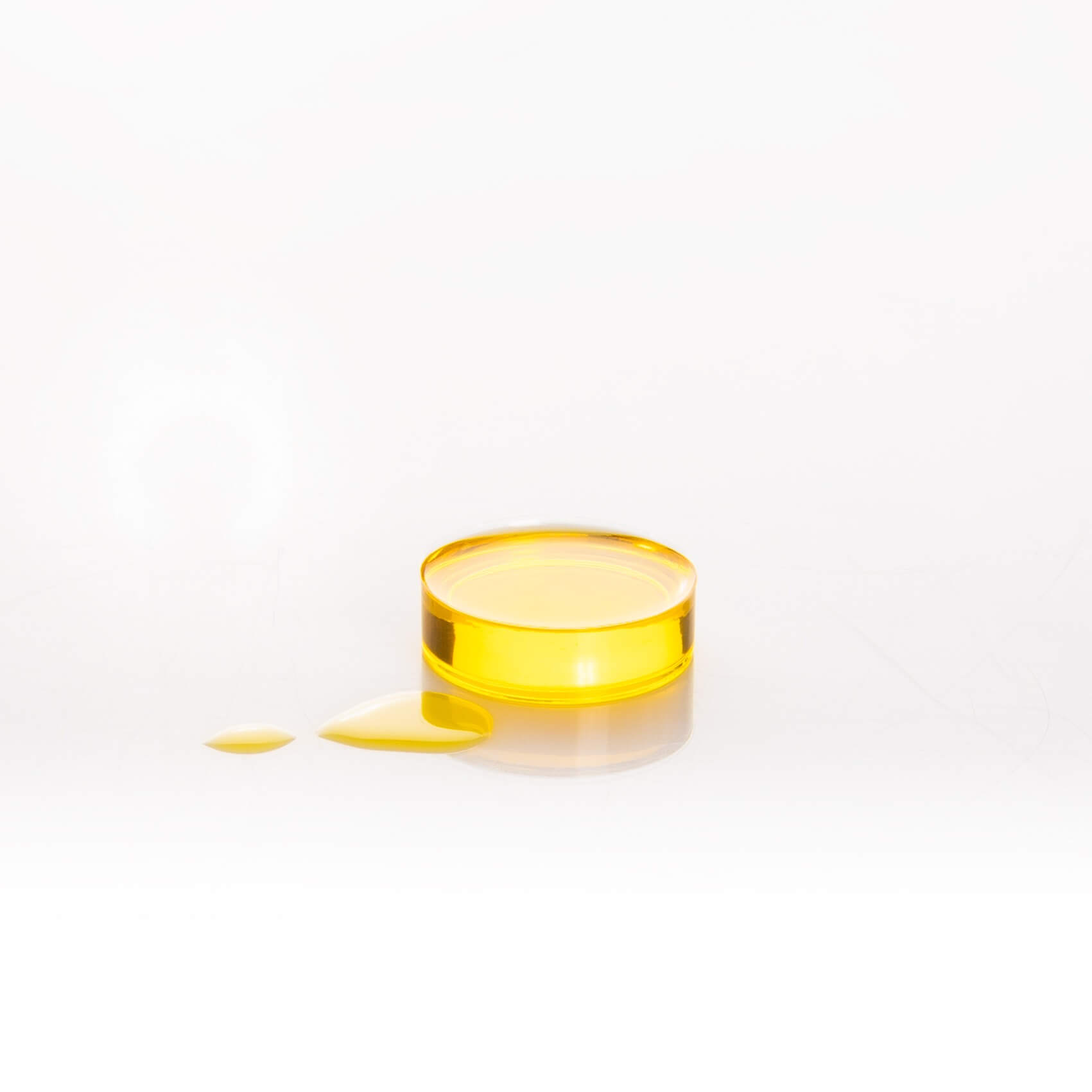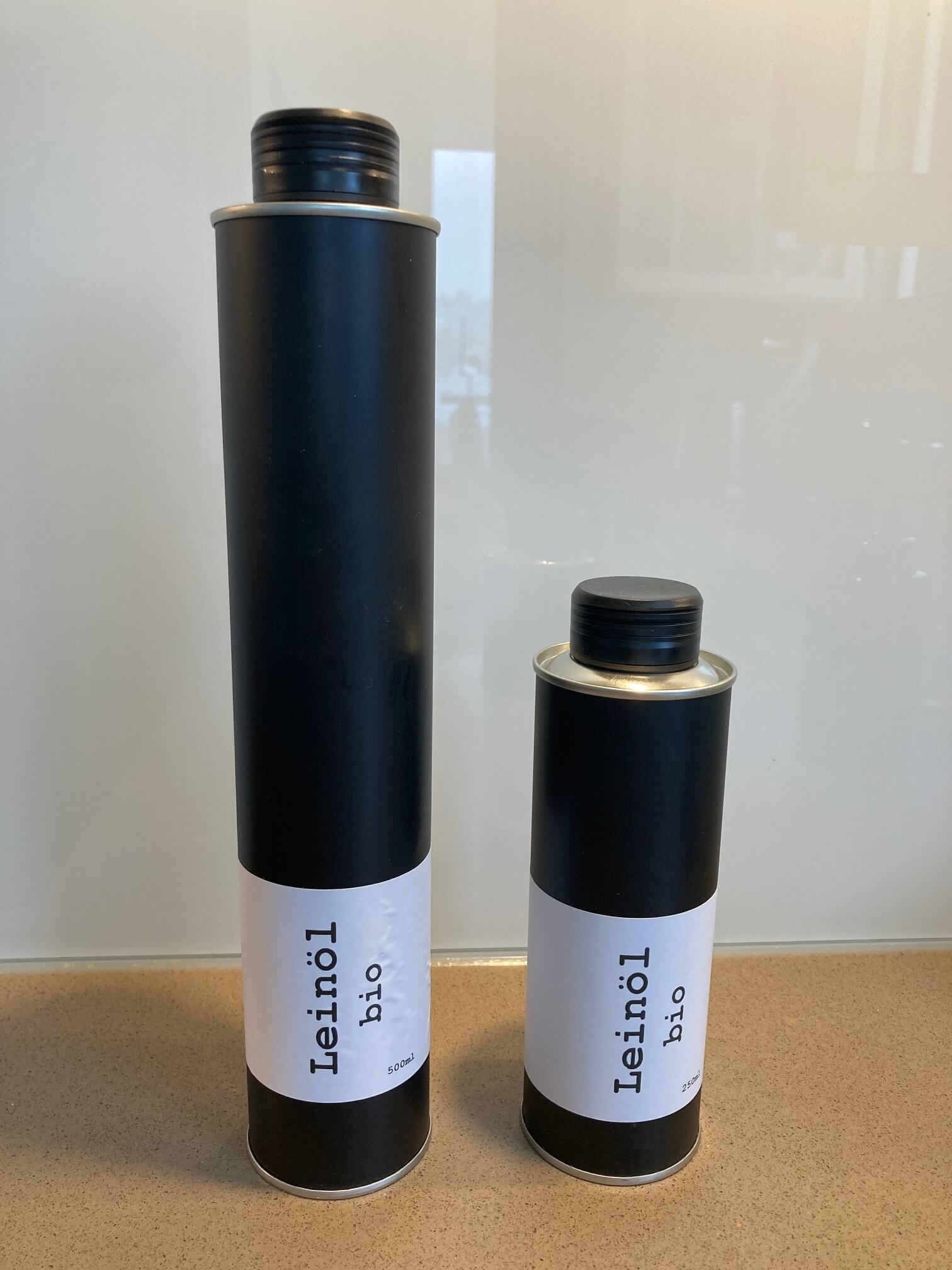 Quantity
Unit price
To

2

CHF 10.00*

From

3

CHF 9.50*
Available, delivery time: Advance order for monthly pressing according to information in the product description
Product number:
171.016.1
Flaxseed oil from Swiss organic flaxseed: freshly and cold-pressed and unfiltered
Update: Pre-order now for the next pressing on 11. December 2023. As already announced, the 500ml version will now be filled in BPA-free tin bottles with a black matt design. As an addition to our range, we are introducing 250ml bottles for SFR 20. The 100ml remains in the familiar Miron glass bottle for several months.
The next linseed oil pressing will take place on Monday 20. November 2023. Please place your pre-order by Sunday evening 19. November. Shipping will be on Wednesday 22. November with Post Pack Priority, so delivery should be on Thursday. Below you will find all other order data. Flaxseed oil is one of our favorite products because:
Very tasty: Freshly pressed flaxseed oil does not taste bitter at all (in the first weeks), but rather has a slight nutty taste.
Organic: Producer Jakob Bachofner's brown organic flax seeds come from their own fields in Fehraltorf.
Cold pressed: Due to mill water cooling, the oil temperature remains at 28-32°C throughout the pressing.
Regional: Fehraltorf is only 10 km from our warehouse in Wetzikon. Home delivery is CO2 neutral with Swiss Post.
Why is flaxseed oil so healthy?
With approximately 50% alpha-linolenic acid/omega 3, flaxseed oil is one of the most potent suppliers of this important fatty acid. Just 1 tablespoon of flaxseed oil covers the daily requirement of 2 g of alpha-linolenic acid for an adult.
Omega-3 fatty acids are of great importance for our metabolism. They are important building blocks of our cell membranes, they have an anti-inflammatory effect, protect cells against premature aging and strengthen the immune system. You can find more interesting information about omega-3 fatty acids in our health guide.
Use
Fresh flaxseed oil is a real delight! Jakob Bachofner of the Oelerei presses flaxseed oil from organic flax seeds from his own fields in Fehraltorf freshly and with a press cooled with raw food grade water at 28-32°C - feel the difference. It is not filtered, but left in the refrigerator for 1 day so that the cloudy matter can settle. The flaxseed oil is then bottled, transported to the warehouse and shipped the same day. It is possible that very little cloudy material (it is a little darker) settles at the bottom of the bottle. It can be consumed without hesitation.
Linseed oil goes perfectly with cold and lukewarm dishes such as salad, potatoes and muesli. It can also be enjoyed pure (1 tablespoon daily). Linseed oil is also suitable for external use on very dry skin.
Linseed oil favorite recipes
We ourselves have been enthusiastic flaxseed oil consumers for many years, which is why we are happy to list our favorite recipes for inspiration:
Raw almond milk with a fresh apple and linseed oil
Budwig-Crème-Müesli (based on low-fat quark and linseed oil)
Golden milk with linseed oil
Chia pudding with linseed oil
Apple and cinnamon porridge with linseed oil
Wholemeal bread with cottage cheese, linseed oil and sprouts
Vegan mayonnaise with almond butter and linseed oil
Potato salad with linseed oil
Tomato and onion salad with basil and linseed oil
Experiment: Drizzle the linseed oil and some salt over half an avocado.
What is your favorite linseed oil recipe? Let us know and we'll be happy to add it to the list.
Ordering process for freshly pressed flaxseed oil from Swiss flaxseed
To pre-order, buy the flaxseed oil as usual online, send us an email to info@samaranatura.ch or give us a quick call on 044 586 27 27. On Monday morning we place our order with Jakob Bachofner from the Oelerei. He presses the flaxseed oil on Monday. Then the freshly pressed organic flaxseed oil has to rest for a day in cold storage for sedimentation (lowering of turbid matter).
The bottles are filled on Wednesday morning and I immediately bring the bottles to our social logistician in Wetzikon. He sends all orders (flaxseed oil with any other items ordered) on Wednesday with Post Pack Priority (without a SFR 2 surcharge), so you should receive your order on Thursday of the same week.
Freshly pressed flaxseed oil only for pre-orders
Due to the sensitivity to heat and the short shelf life, we do not keep flaxseed oil in stock, but only accept pre-orders from September to June, which are then carried out once a month. In the warm months, shipping is done with cooling pads.
Size variants and prices
The organic flaxseed oil can be ordered in 2 different sizes:
100ml for CHF 10.- resp. from 3 pieces CHF 9.50
500ml for CHF 33.- resp. from 3 pieces CHF 31.35
Order deadlines 2nd semester 2023
Sunday November 19th, 2023

Sundy December 10th, 2023
Sunday January 14th, 2024
Sunday February 11th, 2024
Sunday March 10th, 2024
Sunday April 14th, 2024
Sunday May 12th, 2024
Sunday June 9th, 2024
Durability
Shelf life after pressing is 3 months. Please always keep the flaxseed oil in the refrigerator, even before opening the bottle for the first time. This slows down the oxidation that occurs very quickly in flaxseed oil. Our flaxseed oil is specially packaged in dark violet Miron glass to protect it from sunlight and the associated premature oxidation.
There are 2 options for extending the shelf life: Very modern refrigerators sometimes have a 0-degree zone. Stored there, the flaxseed oil can be kept for about a month longer, or you can freeze it, which extends the shelf life to 6 months.
Once opened, the bottle should be consumed within 3-4 weeks.
Important instructions
Flaxseed oil and camelina oil are not the same. While flaxseed oil is pressed from flaxseed, camelina oil comes from camelina. Camelina oil has a longer shelf life, but at around 35% it has a lower proportion of alpha-linolenic acid/omega 3.
Cold-pressed oils (except coconut oil) are heat-sensitive and are therefore mainly suitable for cold dishes. Toxic compounds can form when heated to high temperatures, e.g. when roasting.
Nutritional values of organic flaxseed oil per 100g
Energy 3475 kJ / 830 kcal
Fat 93g
- of which saturated fatty acids (palmitic acid and stearic acid) 8g
- monounsaturated fatty acids (oleic acid) 19g
- polyunsaturated fatty acids (linoleic acid and alpha-linolenic acid) 67g
carbohydrates 0g
of which sugar 0g
protein 0g
salt 0g
Compared to other oils, linseed oil has a very high proportion of polyunsaturated fatty acids. Depending on the seed, it is 10-30% linoleic acid (omega-6 fatty acid) and 40-70% alpha-linolenic acid (omega-3 fatty acid), which can be converted by the body into DHA (docosahexaenoic acid) and EPA (eicosapentaenoic acid).
Origin
Switzerland, chilled pressed by Jakob Bachofner in Fehraltorf with flaxseed from our own fields in Fehraltorf ZH.
New producer with pictures
After our former producer unfortunately had to go out of business, we started looking for a new solution in the summer of 2021. There were various options with high-quality producers of chilled-pressed organic oils, but in the end we found the most suitable alternative in Jakob Bachofner from the Oelerei in Fehraltorf. The main reason is the short distance of just 10 kilometers between the oil production and our warehouse in Wetzikon. This enables us to deliver the flaxseed oil to you even one day earlier/fresher - it couldn't be faster. Jakob produces high-quality oils, certified organic according to the Swiss organic regulation CH-BIO-086. Here are a few pictures of the cultivation and harvesting of the flaxseed from Fehraltorf.
Flaxseed oil, Flaxseed blossoms unfold
Flax capsules in close-up
The flax is ready for harvest
Mowing with the disc mower
Drying the flax in the sun for 2 days
Thresh flax with the combine harvester
The water-cooled oil mill to press linseed oil in raw food quality
Jakob Bachofner in the field
---
Frischer geht es nicht! Keine Spur von Bitterkeit, dafür Genuss pur, fein nussartiger Geschmack, tolle Konsistenz!
Schmeckt ausgezeichnet, ob Salat, Smoothie oder auch pur.
Schmeckt ausgezeichnet, ob Salat, Smoothie oder auch pur.
Ich finde dieses Öl köstlich
Ich bin sehr zufrieden mit dem Leinöl!!! Jeden Tag kommen zwei Esslöffel in mein Müesli.
Frische und Feinheit sind einzigartig!
Wir geniessen das frisch gepresste Leinöl täglich. Die Qualität ist Einzigartig! Bezüglich Frische und Feinheit ist es das beste Leinöl, das wir je probiert haben.