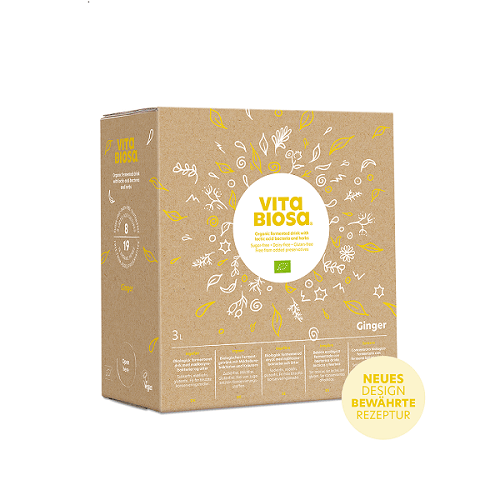 Quantity
Unit price
Base price
To

2

CHF 81.80*

CHF 2.73* / 100 ml
From

3

CHF 77.71*

CHF 2.59* / 100 ml
Available, delivery time: 1-4 days
Vita Biosa Probiotic Ginger - the fresh version
This new version is already the most popular. The taste is not spicy at all, but lemony and fresh.
The herbs, carefully selected for their taste and quality, were treated gently during sowing and harvesting.
The fermentation with the seven vegan lactic acid bacteria and probiotics creates a unique herbal extract with a fresh, sour taste.
Pure organic herbal fermentation drink with active lactic acid cultures and probiotics. During fermentation, lactic and acetic acids are formed, giving the beverage a pH of about 3.5. This low pH prevents the growth of harmful bacteria in the final product.
It contains millions of microorganisms, as they naturally occur in the healthy intestinal environment. During fermentation, the seven lactic acid cultures and probiotics consume the complete sugar and convert it into lactic and acetic acid. When all the sugar has been consumed, the fermentation process is complete and the product is sugar free.
Due to the special fermentation at temperatures below 40 ° C, Vita Biosa Probiotic Aronia is free of lactose, gluten, sugar, histamine, alcohol or preservatives.
Vita Biosa Probiotic Aronia is suitable for all ages and is available in four flavors. It is unpasteurized and can be kept in the fridge for 2 months after first opening. But first it does not have to be cooled.
The name lactic acid bacteria comes from the ability of the bacteria to acidify milk.
Vita Biosa Probiotic Ginger is not a dietary supplement but a food. It does not give the body any additional chemical substances but is purely natural.
Ingredients Vita Biosa Probiotic Ginger
Active lactic acid cultures, probiotics and an extract of 19 different herbs - all from certified organic cultivation (organic).
In addition to the good qualities of Vita Biosa Probiotic, this extract contains an extract of the nutritionally valuable rosehip ready to drink.
Ingredients before production:
The ingredients refer to the beginning of the manufacturing process. In the course of fermentation, the ingredients are metabolized by the microorganisms
Water, sugarcane molasses from certified organic cultivation, fructose and glucose (from controlled organic invert sugar), herbal mixture and fermentation cultures.
In Vita Biosa contained herbs
Pimpinella anisum (anise) 9%, Glycyrrhiza glabra (licorice root) 9%, Foeniculum vulgare (fennel) 9%, Ocimum basilicum (basil) 4,5%, Matricaria recutita (Roman dog chamomile) 4,5%, Anthriscus cerefolium (chervil) 4,5%, Anethum graveolens (Dill) 4,5%, Sambucus nigra (Black Elderberry) 4,5%, Trigonella foenum-graecum (Fenugreek Seed) 4,5%, Zingiber officinale (Ginger) 4,5%, Angelica archangelica 4.5%, Juniperus communis (Juniper) 4.5%, Urtica dioica (Nettle) 4.5%, Origanum vulgare (Oregano) 4.5%, Petroselium crispum (Parsley) 4.5%, Mentha piperita (peppermint) 4.5%, Rosmarinus officinalis (rosemary) 4.5%, Salvia officinalis (true sage) 4.5%, thymus vulgaris (thyme) 4.5%.
Herbal content max. 0.4% of the total product.
Vita Biosa Probiotic Ginger
Vita Biosa Probiotic is a certified organic herbal fermentation drink from Denmark, developed to harmonize the intestinal flora for the whole family. 19 carefully selected herbs are fermented with 7 lactic acid cultures and probiotics. The contained probiotic bacteria can survive in the stomach, attach themselves to the intestinal wall and multiply there. This produces acids that, together with the probiotic bacteria and proper nutrition contribute to a balanced environment in the gastrointestinal tract.
Vita Biosa Probiotic herbal fermentation drinks are foods that are fermented and constantly optimized in Denmark with the utmost love, care and expertise under strict state control and state-of-the-art technology. Vita Biosa Probiotic supports the regulated activity of your intestines and gives you a good gut feeling!
Use Vita Biosa
Initially 2-3 teaspoons with meals (pure, in water or in juice). In the build-up phase of one week increase the daily intake to 30-50 ml (equivalent to 6-10 teaspoons).
If you are not yet used to the sour taste of Vita Biosa Probiotics, then we recommend mixing it as a Biosa Spritzer with water or a juice. Please do not mix it with hot drinks as these could kill the lactic acid bacteria.
Vita Biosa for histamine intolerance
Vita Biosa is not suitable for people with histamine intolerance, as the probiotics contain both Lactococcus lactis and Lactobacillus casei.
Nutritional informations Vita Biosa Ginger per 100ml
Calorific value: 50 kj / 15 Kcal
Protein: 0-1 g
Carbohydrates: 1.5 g
of which sugars: 0-0.5 g
Fat: 0-1 g
fatty acids boiled: n.a.
Dietary fiber: 0-1 g
Sodium: 0 g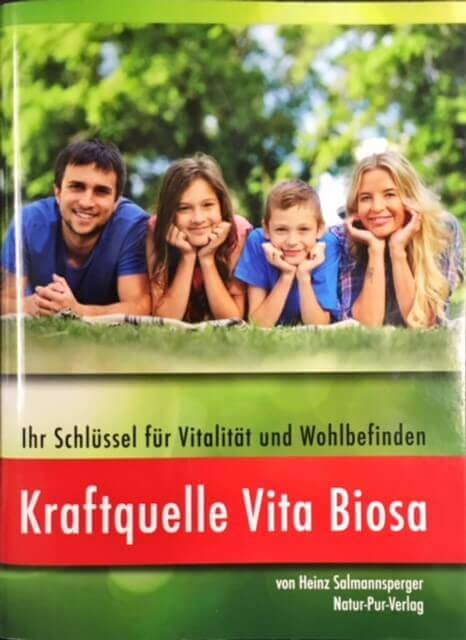 Kraft der Natur - Ein Selbsthilfebuch
Kraftquelle Vita Biosa - Ihr Schlüssel für Vitalität und Wohlbefinden Das Vita Biosa Buch ist leider ausverkauft und wird nicht mehr nachproduziert. Es ist ein neues Buch in Planung, aber noch kein Zeitplan festgelegt. Über das Buch Die unglaublichen Heilerfolge des dänischen Kräutergetränks Vita Biosa haben Heinz Salmannsperger dazu bewogen dieses Buch zu schreiben. Inhalt VORWORT EINLEITUNG VITA BIOSA AUS ÜBERZEUGUNG Der Darm und die Gesundheit Effektive Mikroorganismen in Vita Biosa Das Heilpotential der Kräuter Vita Biosa als wirkungsvolles Antioxidanz WIRKUNGSWEISE VON VITA BIOSA Wodurch kommt die Wirkung von Vita Biosa zustande? Auswirkung auf den Körper Praktische Anwendung VITA BIOSA - EINE ERFOLGSGESCHICHTE Vagn Baastrup: Gesund durch Mikroorganismen Wie lässt sich diese Wirkung erklären? WAS SIE ÜBER DEN DARM WISSEN SOLLTEN Kurzer Überblick über die Verdauung Wie läuft die Verdauung ab? Was wissen wir über die menschliche Darmflora? Probiotika - Mikroorganismen für unsere Gesundheit Darmgesundheit und Allergien Welchen Einfluss hat die Einnahme von Probiotika auf Erkrankungen? FRAGEN UND ANTWORTEN ZU VITA BIOSA ERFAHRUNGSBERICHTE Erfahrungen bei verschiedenen Erkrankungen Erfahrungsberichte: Hisa Forschungsinstitut Der Klappentext vom Autor Was hilft die beste Nahrung, Nahrungsergänzung oder Medizin, wenn die Stoffe nicht aufgenommen werden können? Das fermentierte Kräutergetränk mit Milchsäurebakterien harmonisiert die Darmflora und stärkt unser Immunsystem. EInde gesunde Darmflora gewährleistet eine optimale Aufnahme von Nährstoffen und schützt den Organismus. Die Auswahl der Kräuter hat einen wohltuenden Einfluss auf die Verdauung und versorgt den Körper mit wichtigen Antioxidantien, die unsere Zellen vor Oxidationsvorgängen schützen und sie funktionstüchtig erhalten. Es zeigt auch bei Zivilisationskrankheiten wie Krebs, Diabetes, Aids, Bluthochdruck, Angina Pectoris, Magengeschwüren, Lebererkrankungen, Allergien oder Rheuma so unglaubliche Heilerfolge, dass sich nicht nur Schulmediziner verblüfft die Augen reiben. Details zu Kraftquelle Vita Biosa 100 Seiten Verlag: Natur-Pur-Verlag Sprache: Deutsch Auflage: 3. aktualisierte Auflage ISBN: 0-9736099-0-7