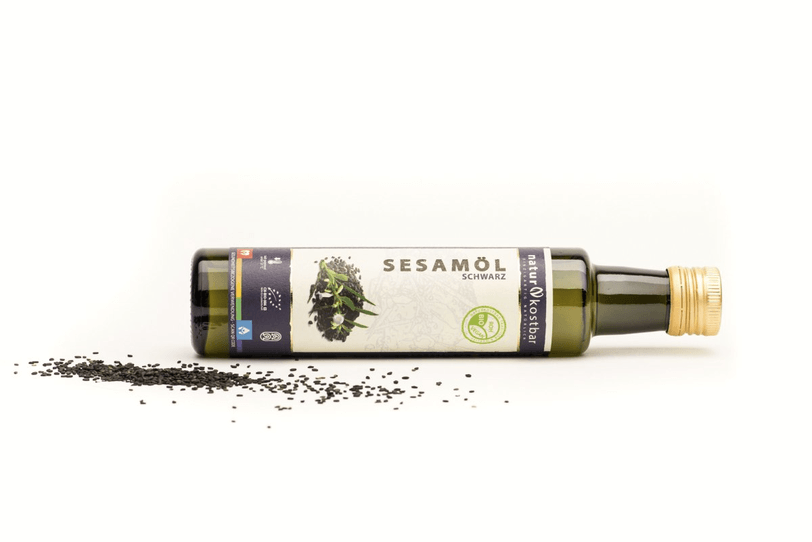 CHF 9.00*
Content:
250 ml
(CHF 3.60* / 100 ml)
Cold-pressed organic sesame oil from Naturkostbar
The noble sesame oil in raw food quality is obtained from Bolivian black sesame seeds. They are real power packs, which contain many valuable vital and building materials. The black sesame seeds are considered the archetype of sesame and their nutrient density is higher than that of the golden yellow sesame seeds.
Quality characteristics:
delicate, intense taste
Organic certified
Raw food quality, oil temperature remains below 37°C during pressing
unfiltered
100% pure black sesame oil
Origin and production
The raw, unpeeled black organic sesame seeds currently come from Bolivia. Naturkostbar gets them from a supplier who specializes in the sale of ecological and sustainable organic raw materials with social responsibility. Due to fluctuations in demand and harvest, the country of origin may change from time to time. What remains is the high quality of the raw materials and the requirement for sustainable, organic cultivation.
In the Naturkostbar Manufaktur in Uetendorf, the black sesame seeds are gently cold-pressed. The water-cooled oil press ensures that the temperature remains below 37°C and that no heat build-up occurs. During the subsequent sedimentation, the turbid matter naturally sinks to the bottom. This process takes longer, but it has the advantage of not having to filter the sesame oil. As a result of the gentle processing, the valuable ingredients in the oil are preserved and the delicate, intensive taste is created.
This black sesame oil is 100% pure, i.e. no other oils are added.
What is the best way to use sesame oil
The black sesame oil is characterized by its individual, noble aroma and is particularly suitable as an ingredient for Asian dishes. It gives hot and cold dishes an exotic touch and, thanks to its unique taste, harmonises wonderfully with fresh fruit and all kinds of vegetables.
In addition, the sesame oil convinces with its caring and regenerating effect. It is suitable for oil pulling cures. As a high-quality body oil, it supports stressed skin and is used in Ayurveda for soothing massages.
Note: When using in the kitchen, it is advisable to keep it in the refrigerator.
Why not high heat black sesame oil?
In contrast to light sesame oil, which is also used for frying in Asian cuisine, black sesame oil is less heat-resistant and is not suitable for frying or deep-frying.
Further information
Ingredients: 100% organic black sesame oil
Organic certificate: CH-BIO-086
Allergens: sesame
Nutritional values ​​black sesame oil per 100g
Black sesame oil is rich in essential polyunsaturated fatty acids such as linolenic acid, which helps maintain normal blood cholesterol levels. Its high proportion of omega 6 and omega 9 fatty acids and lecithin also support our vital metabolism. Unsaturated fatty acids are vital for our organism because they support our body's immune system, cell regulation and hormone production.
Nutrient Ø
per 100g/100ml
%

*1

*1 Reference amount for an average adult (8400kJ/2000kcal)

Energy
3400kJ (830kcal)
40%
Fat
92g
131%
of which saturated fatty acids
12g
60%
of which monounsaturated fatty acids
39g
260%
of which polyunsaturated fatty acids
41g
-
Carbohydrates
-
-
of which sugars
-
-
Fiber
-
-
Protein
-
-
Salt
-
-
B-carotene (provitamin A)
-
-
Vitamin A
-
-
Vitamin B1
-
-
Vitamin B2
-
-
Vitamin B3
-
-
Vitamin B6
-
-
Vitamin B12
-
-
Vitamin C
-
-
Vitamin D
-
-
Vitamin E
3.5mg
29%
Vitamin K
-
-
Biotin
-
-
Calcium
-
-
Chloride
-
-
Chrome
-
-
Iron
-
-
Fluoride
-
-
Folic acid / folacin
-
-
Iodine
-
-
Potassium
-
-
Copper
-
-
Magnesium
-
-
Manganese
-
-
Molybdenum
-
-
Pantothenic acid
-
-
Phosphorus
-
-
Selenium
-
-
Zinc
-
-